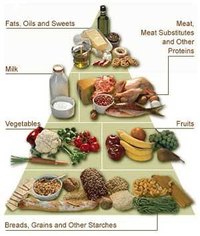 Watching your weight by cutting calories to 1,500 a day can already be a daunting prospect. But when you add in the challenge of being diabetic, it may seem overwhelming. But it doesn't have to be. Not if you follow the guidelines set up through the Diabetes Food Pyramid.
The Diabetes Food Pyramid
The Diabetes Food Pyramid divides food into six groups based on their carbohydrate-to-protein ratio rather than their classification as a food. By following the minimum serving suggestions outlined by the diabetes food pyramid, a person could expect to consume approximately 1,600 calories. An extra 100 calories can easily be removed from this by substituting one vegetable serving for one of the starch servings.
Food Classifications
The base of the pyramid is made of grains, beans and starchy vegetables. These foods contain mostly carbohydrates. Although the American Diabetes Association recommends eating a minimum six servings of carbohydrates for a 1,600-calorie diet, to cut your diet to 1,500 calories, you may choose to eat one fewer servings of carbohydrates.
Vegetables and fruits share the next level of the pyramid. A diabetic patient should eat at least three to five servings of vegetables daily. Although fruits contain carbohydrates, they also contain vitamins, minerals and fiber. You should eat approximately two servings of fruit daily.
The next layer of the pyramid is milk. Milk products contain a lot of protein, calcium and vitamins. You should choose two servings of low-fat or non-fat dairy products whenever possible. Milk products such as cheese and cottage cheese are classified as meat products in the diabetic food pyramid. Other products classified as meat include peanut butter, tofu and meat substitutes as well as turkey, eggs, fish, beef and chicken. You should only eat approximately 4 oz. of meat daily.
The top of the pyramid is saved for sweets, fats and oils. These should be eaten sparingly.
Portion Sizes
One serving of starch would be one slice of bread; a half cup of dry or cooked cereal; a half cup of potatoes; or a third of a cup of rice. One serving of vegetables is one cup raw or a half-cup cup cooked. One serving of fruit is a half cup of canned fruit; one small whole fruit; 2 tbsp. of dried fruit; a cup of melon or raspberries; or one and a half cups of whole strawberries.
A serving size of milk products is one cup. One ounce of meat product is equal to one egg; a quarter cup of cottage cheese; 1 tbsp. of peanut butter; or a quarter cup of tofu. Three ounces of steak or chicken is about the size of a deck of cards. A serving size of fat or oils is equivalent to a half cup of ice cream; one small cupcake; or two small cookies.