Whey protein is created from whey, a by-product of turning milk into cheese. Because its composition possesses anti-inflammatory properties for the body, many people consume whey in three different forms: concentrate (which contains a large amount of lactose), isolates (which have a mild taste), and hydrolysates (which have a bitter taste). In addition to anti-inflammatory properties, whey protein has a high amount of branched-chain amino acids, which are helpful in building muscles.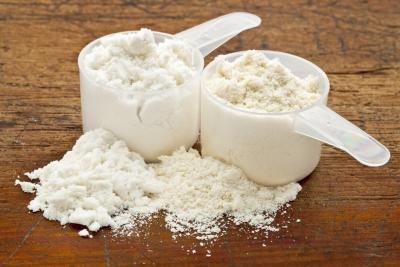 (marekuliasz/iStock/Getty Images)
While whey protein has many positive effects on the body, it can have negative effects when consumed in excess. Consuming too much protein and not enough carbohydrates or fiber to balance the protein sends the body into a state called ketosis, which causes ketones to accumulate in the blood. Having too many ketones affects the body in a number of ways. It causes the body to enter into a "starvation mode" that increases insulin resistance and heightens glucose intolerance. The kidneys also have to work overtime to rid the body of nitrogen, which can cause side effects such as dizziness, headaches and trouble concentrating. Excess protein consumption can also overload the kidneys.
deymos/iStock/Getty Images
Even though protein is damaging when taken in excess, it is not harmful when consumed in the correct amounts every day. The average bodybuilder consumes 0.88 to 1.0 grams of whey protein a day; however, this is often split up throughout the day, so as not to overload the kidneys and liver all at one time and works to compensate for the unusual demands a bodybuilder places on his body. Consuming more than this amount of protein is considered dangerous, and actually has an adverse effect on the body.
Most people, including elite athletes, do not consume more than 25 grams of whey protein in addition to their dietary protein each day.
Stockbyte/Stockbyte/Getty Images
The appropriate amount of protein intake per day (for all types of protein combined, not just limited to whey protein) depends both on your activity level and your body weight. While calculating a safe protein amount, it is important to also drink plenty of water that can help to reduce the effects on the kidneys and liver.
Choose an activity level that best describes you, then multiply the number beside it with your body weight to determine how many grams of protein you should consume--for nutrition information both on whey protein and other protein sources, use nutrition labels to obtain the protein measurement in grams. (This chart is based on recommendations from Northwestern Health Sciences University and the Cleveland Clinic, and applies to both men and women.)
• Inactive - 0.4 X body weight • Occasional exerciser - 0.5 to 0.75 X body weight • Adult athlete - 0.6 to 0.9 X body weight • Teenage athlete - 0.8 to 0.9 X body weight • Adult building muscle mass - 0.7 to 0.9 X body weight • Athlete undergoing calorie restrictions - 0.8 to 0.9 X body weight
Marek Uliasz/iStock/Getty Images
Promoted By Zergnet