Pregnant women experience hormonal changes that may lead to flu symptoms such as nausea, vomiting or stuffy nose. Beyond these normal pregnancy side effects, pregnant women may contract the flu and experience additional symptoms. Knowing the difference between pregnancy symptoms and flu symptoms is key; finding treatments that are safe during pregnancy is the next step.
Normal Pregnancy Symptoms
Morning sickness is a traditional part of pregnancy, but it may be operating under a false name. In truth, pregnant women experience nausea as a result of a drop in blood sugar, which can happen at any time of day. Typically, women experience this sensation in the morning because they have gone all night without eating. If your nausea goes away after you eat, or if you are in your first trimester and not experiencing any other symptoms, then chances are you are suffering from morning sickness and not the flu. Hormonal changes during pregnancy can also bring about nasal congestion. If you have nasal stuffiness but no other symptoms, it probably isn't a cold; it's just your hormones working against you. Normal aches and pains are also a common part of pregnancy. Your growing belly can cause you to feel stretched out in all the wrong places, and can place extra pressure on your back, legs and feet. Muscle aches in these areas of your body are probably a result of the pregnancy, and not the flu.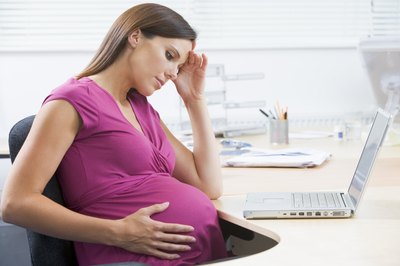 Legitimate Flu Symptoms
If you have a combination of symptoms including fever, chances are you are suffering from the flu. Particularly if you have not had morning sickness recently but you feel nauseous, this could be the result of an actual illness. Pregnant women can contract the flu just as easily as anyone else, if not more so: their changing immune system and hormonal balance can actually make them more susceptible to illness than the average person. Pregnant women should try to manage their flu symptoms at home without medication, if possible. However, if your symptoms worsen, you should contact a physician right away. Dehydration is a risk during the flu; if you are unable to keep down food or liquids over a period of a few hours, call your doctor. Also call if your temperature rises above over 101 degrees F. Call your doctor if you have been managing your symptoms at home but see no improvement after 24 hours.
Relieving Symptoms
Unfortunately for pregnant women, many medications traditionally associated with managing flu symptoms are unsafe during pregnancy. Ask your doctor before taking any over-the-counter or prescription medications. If you can manage your symptoms without drugs, that will be better for you and for your baby. Try the following ideas to help relieve your symptoms during a bout of the flu: Drink plenty of fluids. Fluids may be easier to keep down than solid foods, and they will help you maintain your hydration. Try drinking some juices in addition to water, in order to get some nutritional content. You may also want to try to make yourself a milk shake or smoothie. Eat dry carbohydrates. Try dry toast or crackers. Eat foods with vitamin C to boost your immune system. Get plenty of rest. Your body needs time to recover from the illness attacking your immune system. If the above suggestions do not work for you, call your doctor to ask what more you can do.