Going through airport security does not need to be a nightmare. By following these tips, rules and guidelines, you can make your trip less stressful and more enjoyable. And you may not face having to throw away something you value or risk missing a flight.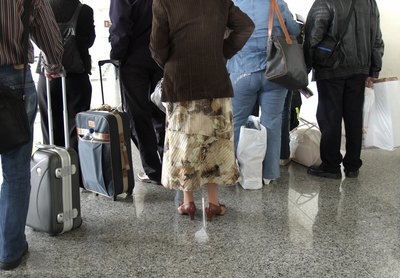 Toothpaste and Shampoo--The 3-1-1 Rule
Any traveler who has had to wait for misplaced or lost luggage knows the wisdom of having a few items on hand in carry on luggage just in case. These items vary by person and their needs, but include such things as prescription medications, toiletries, a change of underwear, night clothes and a change of clothes. The 3-1-1 rule states the quantity and size of toiletries that can be placed in carry on luggage. Each passenger can have as many 3 oz. bottles and tubes as will fit in a 1 qt. see through plastic bag. This does not mean 2 ozs. of shampoo in an 8 oz. bottle. Even if you are only talking 2 ozs. of shampoo, the bottle cannot hold any more than 3 ozs. Although some merchants have produced high quality clear plastic cases with 3 oz. bottles and tubes, a Ziploc bag and the trial size toiletries available in many 1 stop shops work adequately. Some vendors have manufactured dehydrated mouthwash, toothpaste and other toiletries in tablet form that you reconstitute when you get to your destination by adding water.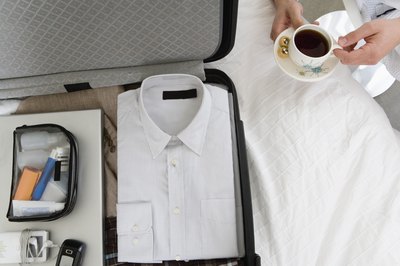 Size and Weight of Carry-On Luggage
Airlines and the TSA have regulations about how large your luggage can be and how much it can weigh. Luggage size, for those of us who forgot, is described in a single number like 40 or 22 or 60. That number for any piece of luggage is calculated by adding the dimensions of the luggage, the height plus length plus depth. A suitcase that is 22 inches long, 14 inches wide and 8 inches high would be called a 44, and would fit any United State's airlines current carry on requirements. However, it also must not weigh in excess of 40 lbs.
When selling luggage, some manufacturers or sellers use the inside dimensions, which can underestimate the fully loaded size. This is especially true if the luggage has multiple outside pockets that can add one or two inches to the size when stuffed. So, if in the market for luggage, consider the size you will have when it is fully loaded.
Carry On Luggage can only hold the 3-1-1 toiletries as described above. Any other object you place in it that qualifies as a liquid, gel, or paste will be tossed. That includes the $100 bottle of perfume you bought at your exclusive hotel's lobby. In order to save the perfume, you will need to leave the check in and find a post office and ship it to yourself, then try to get back into line in time to catch your flight. Talk about stress.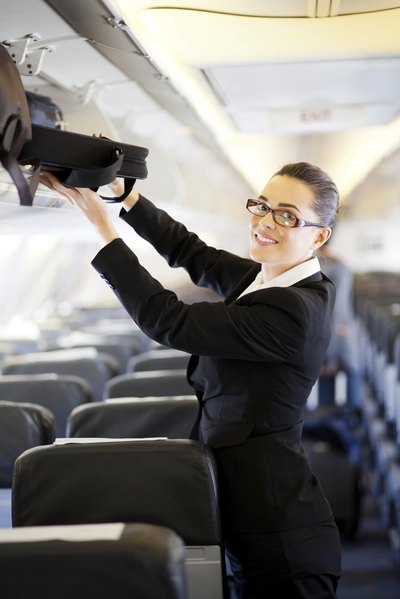 Size and Weight of Checked Luggage
Checked luggage can be as large as 62, weigh 50 lbs. and can carry toiletries in containers larger than 3 ozs. The TSA has produced a list of prohibited items, prohibited from checked luggage as well as carry on luggage. The website is linked below. This list is important. One friend had a pair of antique embroidery scissors she inherited from a great grandmother that were tossed as she went through airport security. Such a loss would not have happened had she read this list before getting to the airport and going through her purse to see if any items within it were prohibited.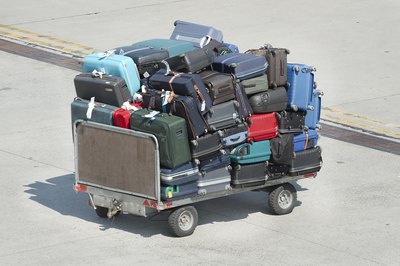 Other Tips and Convenient Facts
Airport security requires that your checked luggage be able to be unlocked. Unlocked luggage, however, can result in theft by baggage handlers or others between the time you hand over your checked luggage and the time you reclaim it at the end of your journey. Some merchants have invented combination locks that can be opened with a security key by the TSA staff, but would deter others who did not have such a key.
When going through customs or at an international airport, it is routine for the security personnel to look through every other piece of luggage. Help your belongings stay neatly packed by using packing cubes with see through sides.
Travel clothes come in no wrinkle fabrics and take very little room and are light weight. Two or three outfits with accessories can carry a person through many events easily. After packing all your clothes, weigh your luggage to make sure it doesn't go over the weight restrictions. And try to reduce what you have packed by half. It will be easier than trying to roll or lug 50 lbs. and 40 lbs. through an airport as you shift flights or search for a hotel.