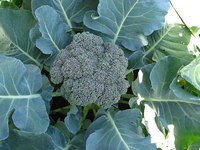 Age spots, also known as liver spots, can be more than a sign of aging, they can signify the need for an improved diet. It's possible to see noticeable results in efforts to diminish--or even erase--age spots completely with a few basic dietary changes. Try these skin-friendly tips for healthy eating that will give you younger looking skin.
Beta-Carotene, Vitamin E & Omega 3 Fatty Acids
Age spots--while being generally harmless--can have a negative impact on your self-esteem. In order to diminish or eliminate age spots, there are three skin-supporting nutrients to begin incorporating in your diet right away. They are:
Beta-Carotene Start your age-spot healing diet by adding foods rich in Beta-carotene. Beta-carotene becomes retinol--a form of vitamin A--in the body, which is credited for its ability to speed the metabolism of your skin and protect it from free radicals. Foods that are high in beta-carotene include: dark leafy greens such as kale, spinach, collard greens and green leaf lettuce; orange-colored vegetables and fruits such as sweet potatoes, carrots, yellow winter squash, apricots, mangoes and cantaloupe; fresh herbs like cilantro and thyme; and broccoli.
Vitamin E Vitamin E helps the body to regulate vitamin A, which is necessary for optimal skin health. It is also a powerful antioxidant and protects skin cells from UV damage. While vitamin E can be applied externally, you can also obtain vitamin E directly from food sources, such as: fortified cereals, roasted sunflower seeds, almonds, turnip greens, tomato paste, pine nuts, peanut butter and wheat germ.
Omega 3 Fatty Acids Omega 3 Fatty Acids---found in flax oil, hemp oil and fish oil--help your body to fight free radicals, which reduce the signs of aging and improve skin texture. You can boost your intake of Omega 3s by taking supplements, or by using flax oil or hemp oil in smoothies and salad dressings.
Other Foods
Boost your intake of fresh vegetables and fruits, and incorporate fresh whole grains, nuts and seeds. Be careful to choose only the freshest varieties of these, however. According to Phyllis Balch, C.N.C., "Be aware that seeds and nuts become rancid quickly when subjected to heat and/or exposure to the air; purchase only raw nuts and seeds that have been vacuum sealed." Rancid nuts, grains or seeds can increase free radicals in the body and contribute to further age spots.
Eat foods as close to their natural state as possible.
Tips
*Consider cleansing your bowel, kidneys and liver in order to remove toxins from your body. Cleansing will boost your success in healing age spots. Over the counter cleansing kits are available at your local health food store.
*Always wear sunscreen and protect your skin from sun damage, which can contribute to age spots.
*Reduce or eliminate your consumption of caffeine and alcohol, as these are known to contribute to age spots.
*Limit or eliminate your consumption of animal proteins.
*Consider grape seed extract supplements with resveratrol, which can help your body fight the free radicals that contribute to age spots.
*Drink plenty of water to keep your skin hydrated and to allow your organs to function properly.