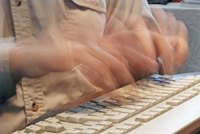 Carpal tunnel syndrome is a condition often associated with repetitive stress on the wrists. This stress can sometimes be caused by extensive computer keyboard usage and is often associated with musicians playing certain types of instruments, like pianos and keyboards or guitars. What happens with carpal tunnel syndrome is that the tunnel in the wrists through which tendons and nerves pass starts to collapse or constrict. There are a number of ways to treat carpal tunnel syndrome without surgery.
Maintain Proper Wrist Angle
One contributor to carpal tunnel syndrome may be wrist angle. Keeping your wrists straight may have a relationship to the health of the carpal tunnel. In most cases, the wrists should not rest on a keyboard or keyboard wrist rest while typing. Keyboard wrist rests are intended as a place to rest the hands in between typing. Resting wrists while typing places unnatural stresses on the wrists.
Use Wrist Braces
In some cases, using a wrist brace may help to train the body to hold wrists in the natural position when typing or keying in data. Braces force the wrists to remain straight, lessening pressure on the carpal tunnel as the tendons extend pressure to the fingers.
Nutritional Aspects
In some cases, nutritional changes can help with carpal tunnel syndrome. Have your doctor check for possible food allergies. Eat plenty of foods containing high levels of anti-oxidants and B vitamins. Reduce or eliminate trans-fats in your diet and concentrate instead on oils like olive oil or grape seed oil. Consider taking a daily multivitamin that contains vitamins A, C, E, D, the B-complex vitamins. The multivitamin should also contain minerals such as magnesium, calcium, zinc and selenium.
Exercises
There are a number of exercises that help carpal tunnel syndrome. Stand with your arms extended in front of you and your wrists relaxed. Extend your hands upward so that your fingers are pointing at the ceiling and hold for a count of five. Straighten and relax your hands. Ball your fists tightly and hold for a count of five. Bend your fists downward and hold for a count of five. Relax your hands and hold for a count of five.