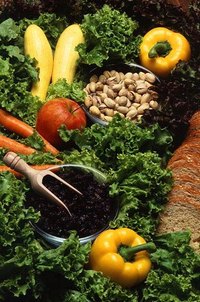 As alternative medicine gains a foothold in modern medical practices, the idea of detoxifying the body is gaining in popularity. The idea behind body detoxification is a simple one. Our world is filled with toxins. As these toxins collect in our bodies, they prevent our liver, gastrointestinal (GI), circulatory and lymphatic systems from carrying out their functions properly. Through detoxification, proponents of naturopathic health say that we restore our body systems to full functionality, thereby helping them to keep us healthier.
Homemade Detox Programs
The website HomemadeBodyCleanse.com advocates dietary methods of cleansing your body instead of herbal supplements or physician-aided means, such as an enema. According to the website, you can effectively detoxify your body by consuming fruits and vegetables, whole grains, unsaturated fats and protein. Additionally, regular workout plans and certain stress reduction programs will help to detoxify your entire body.
Store-Bought Detox Programs
According to Detox Reviews.com, a website that touts itself as the official ranking site for detox products, there is a criteria that they look at for establishing which full body detox products are the best. Their criteria includes making sure that the detoxification products that they rank include all the essential steps for detoxifying the entire body. This includes targeting the GI tract by first cleansing the colon and removing parasites and then restoring beneficial bacteria. At the same time, the products must also detoxify the other body systems and then replenish nutrients and essential antioxidants. According to the website's maintainers, many programs miss this essential step. According to their rankings, the best commercially made detoxification products are a combination of colon cleansing and detoxification products made by a company called Dr. Natura.
Goal-Based Detox Programs
Peter Bennett, a naturopathic doctor from British Columbia, says that because it takes time to clean all of the body's systems, most good programs that target every system follow a seven-day schedule. Bennett advocates following a seven-day program at least once a year. However, there are also one-day water fast programs that are designed to be undertaken one day out of each week. According to Bennett, the best full-body detox program is the one that will meet the individual goals of the patient.