Concern about fossil fuels and their effect on the environment are becoming more of a priority. As more scientific consensus grows about the polluting effect of fossil fuels, individuals and businesses are beginning to focus on their carbon footprints and ways to reduce fossil fuels usage. However, to truly solve the problem, it will be necessary to change much of our infrastructure as well as our practices regarding transportation, food and electricity.
Transportation
When most people think of fossil fuel use, they think of personal transportation. More than 28 percent of U.S. energy consumption in 2008 was used for transportation, according to the U.S. Department of Energy, There are many ways you can reduce your transportation energy use. For short distances, walking and biking are healthier options for you and the environment. The average person can bike three miles or less in about the same time it would take to drive the same distance on city streets. In many areas, public transportation is also an option. By leaving your car at home even one day a week, you can reduce your gasoline consumption by as much as 20 percent.
When you have to drive, there are ways you can increase your car's fuel efficiency and lower your fossil fuel usage. The easiest way is by carpooling. If you bring one person in your car who would have been driving alone, both of you have lowered your energy use by 50 percent. The more passengers in your car, the more efficient your use of energy. An SUV carrying five people uses fewer gallons per mile per passenger than a hybrid with no passengers. However, if you can't find a carpool partner, hybrids and other fuel-efficient vehicles can also reduce your fossil fuel use. Many hybrids still have relatively low fuel efficiency; a small car with a small engine, such as a Honda Civic, can easily get 30 mpg, which is close to the average of most hybrids. But diesel cars can run on biodiesel, which is made from vegetable oil instead of crude oil. Diesel cars can also be converted to run on straight vegetable oil. And pure electric cars are much more efficient than gasoline cars.
Transportation should also be a primary consideration in city planning and design. We can make cities and towns more walkable. People whose houses are a block or two from a grocery store will be more likely to walk to shop, especially if there is a pedestrian sidewalk. People who live less than a mile from work are more likely to walk or bike to work. Cities and town with high-density populations are more efficient and require fewer fossil fuels to function. Our cities need to be redesigned to be more efficient and pedestrian friendly. Building and improving public transit should also be a high priority.
Food
Fossil fuels are significantly consumed by the production, storage and transportation of food. According to the Center for Urban Education about Sustainable Agriculture, the average plate of food in the U.S. travels over 1,500 miles (in trucks powered by diesel fuel) before it is eaten. Before that, it is grown using petrochemical fertilizers and stored in refrigeration cooled by coal-powered electric plants. If we move the production of food to local sources, close to the cities and towns where the food will be consumed, we will save a great deal of fossil fuels. It won't have to travel as far and won't need to be refrigerated as long. If it is grown organically, then it will use natural fertilizers instead of chemicals made from fossil fuels.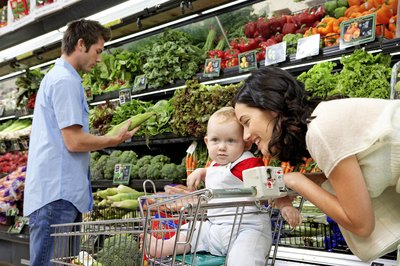 Electricity
Residential use of electricity accounted for more than 21 percent of total consumption in 2008, according to the U.S. Department of Energy. Most of that is electrical energy powered by coal. You can reduce your electricity usage many ways, some as simple as switching to compact fluorescent light bulbs (CFLs), which uses less energy than incandescent bulbs. Better building designs can greatly improve heating and cooling efficiency leading to less long-term energy use. There are several programs that certify buildings as "green" in their design, such as the Leadership in Energy and Environmental Design (LEED) program, and many of the characteristics they evaluate in buildings have to do with energy efficiency. For example, LEED-certified buildings often have thicker panes of glass in the windows to retain heat. There are also many alternate energy sources we can use to generate electricity. Windmills are an easy, cost-effective way to generate electricity in places where wind is plentiful. In sunny climates, solar panels can be installed. Nuclear power plants can also generate electricity and can replace coal-powered plants.