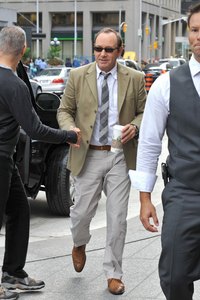 Khakis are a tried-and-true wardrobe staple. A casual option on par with jeans, they can sometimes feel too conservative to be stylish. All it takes to rock khakis with confidence is pairing them with strategic pieces. Whether you're heading to work or grabbing coffee with friends, you can give your khakis a fresh, modern look by choosing a notice-me top and bold accessories.
Professional and Polished
Khakis are a staple of the business-casual look, so they're an ideal alternative to the usual pinstripe trousers on casual days. Wear a pair of slim-cut khakis with a white button-down blouse and a navy blazer. Add a chunky gold chain necklace and button earrings and a pair of red ballet flats to complete your outfit. For a preppy collegiate look on casual Friday, wear your khakis with a button-down blouse but layer a V-neck sweater over it in a bright color like hot pink or a bold pattern like argyle. Finish your outfit with a pair of loafers and a simple pearl necklace.
Casual Chic
On a day when you're running errands or grabbing a quick bite with friends, khakis are an easy pick. Pair them with a basic white T-shirt and denim jacket to keep your look relaxed. If you're going to be on your feet, loafers are a good option, but you can add some height with a pair of espadrille wedges. For a funky look, wear your khaki pants with a graphic tee and colorful canvas tennis shoes. In cooler weather, throw a fitted leather jacket on over your T-shirt and swap the sneakers for motorcycle or combat boots to lend your khakis some edge.
Sleek and Sexy
Khakis may not seem like the sexiest pants in your closet, but roll them into a cropped style and you'll be set for date night. Complete the look with striking peep-toe pumps or heeled gladiator sandals with studded detail. Layer a safari-inspired jacket in olive green or chocolate brown over a basic white tank and carry a bold animal-print clutch to dress them up. Or wear your khakis with an embroidered or silky tunic and a pair of chandelier earrings for an elegant finish.
For the Guys
Guys can also wear khakis for a number of occasions. At the office, pair them with a button-down shirt, tie and navy blazer for a look that's professional but more relaxed. Add loafers or simple leather boots to finish the ensemble. If you're headed to brunch, wear your khakis with a polo and boat shoes, or tuck in a denim shirt and add brown dress shoes for date night. Go even more casual by wearing the pants with a simple white T-shirt and tennis shoes. On cool days, throw a plaid button-down over the tee but leave it untucked and unbuttoned to play up the casual vibe.