Whether your child needs a gluten-free diet due to celiac disease or gluten sensitivity, omitting the grain protein from your child's diet may seem like a daunting task. Knowing that your child will feel better because of it, however, may give you the motivation you need to find gluten-free alternatives for some of your child's favorite foods. Consult your doctor or dietitian to help you plan a menu for your child's specific needs.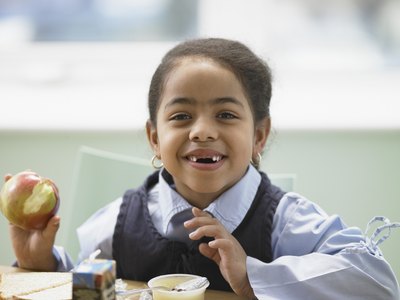 Who Needs Gluten-Free
Celiac disease is an inherited autoimmune disorder that affects the gastrointestinal tract. When people with the disease consume foods that contain gluten, which is found in wheat, rye and barley, their immune system reacts by attacking and damaging the small intestines, specifically the small villi that help absorb nutrients. Continued exposure to gluten causes further damage, which may ultimately lead to nutritional deficiencies and may impair your child's growth and development.
Gluten sensitivity, also referred to as nonceliac gluten sensitivity, is not as serious as celiac disease, according to Mass General Hospital for Children, but it does cause symptoms that affect quality of life, including diarrhea, depression and behavior resembling attention-deficit hyperactivity disorder.
In either case, the only method of treatment is omitting gluten from the diet.
Foods to Avoid
To start, you need to cut out all foods made with wheat, barley and rye from your child's diet. That means most bread, cereal, crackers, pasta, pizza, cookies and other treats. Additionally, gluten may be present in deli meats, soup and broth, candy, sauces, imitation bacon and soy sauce.
In 2014, the Food and Drug Administration began enforcing a new food labeling rule regarding the term gluten-free. The regulation states that in order for a food to be labeled gluten-free, it must not contain any gluten ingredient and must be completely gluten-free.
While this may help in your shopping, the label rule is not mandatory, which means you should read the food ingredient list of foods not labeled gluten-free carefully, and avoid any food with a suspicious ingredient, such as starch, dextrin or caramel coloring, until you can confirm that it is gluten-free.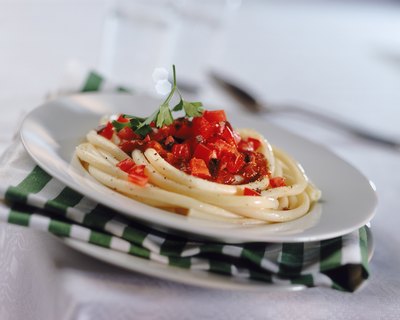 Gluten-Free Kid-Friendly Foods
Gluten is naturally not present in fruits, vegetables, meat, poultry, seafood and milk. And instead of wheat, rye and barley, use gluten-free grains in your child's diet such as rice, millet, corn, soy, tapioca, teff or quinoa. Use these naturally gluten-free foods as the basis of your child's diet. These foods are not only gluten-free but rich in nutrients your child needs for growth and development
There are also a number of gluten-free foods available to replace some of your child's favorites, such as pizza, chicken nuggets, bread, waffles, crackers and cookies.
Sample Meal Plan
For breakfast, your child might like scrambled eggs with potatoes, peppers and onions sauteed in olive oil with a glass of milk and a banana. For toddlers, serve diced plain potato and the banana cut into bite-size pieces.
A healthy gluten-free lunch might include sliced cooked chicken rolled in a corn tortilla with carrot sticks, a gluten-free yogurt and fresh apple. Cut the carrot sticks and apple without the peel into bite size pieces for younger children.
At dinner, your child might like beef and broccoli stir-fried in gluten-free soy sauce with brown rice and a cup of milk. Toddlers may prefer chicken or tofu in place of the beef.
Healthy gluten-free snacks include fresh fruit and veggies, gluten-free yogurt, cheese, rice crackers with nut butter or hummus and popcorn. Do not give popcorn to a toddler.