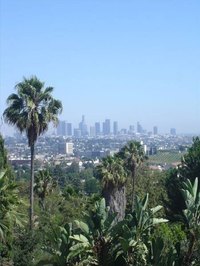 The city of Los Angeles has a great deal to do at night. Visitors and locals alike can expect a great mix of choices to be made when it comes to an evening out. The largest city in the state, visitors demands are high and are generally satisfied regardless of preference.
Third Street Promenade
Head to the Third Street Promenade in Santa Monica. Santa Monica is a favorite among both locals and visitors. The promenade is a pedestrian only walk way that runs from Wilshire Boulevard to Broadway. Many shops, cafes and restaurants line the area, which is a five minute walk from the beach and the Santa Monica Pier.
Listen and watch the street performers. There is no reason to get discouraged if you don't like what you hear. On a busy weekend evening, a different type of performer can be found every fifty feet or so. Jugglers, singer-songwriters, flamenco guitarists, mimes, rappers, dancers and other variety acts will keep you busy.
Fairfax to LaBrea
Experience a relaxing and fun atmosphere by stopping by El Coyote Mexican Cafe. El Coyote has been around since the 1930s and is famed throughout the city for their delicious margaritas. Though the food is not spectacular, you can't go wrong with a big bowl of chips and salsa. El Coyote receives the occasional visitation of celebrities as it did when Fabio and George Clooney ended up fighting here one night.
Walk out the door, up Poinsettia Place to Melrose Avenue next. The stretch of Melrose between La Brea and Fairfax Avenue is always good for a laugh as all manner of city folk strut about. Next, you might want to stop by The Groundlings Theater for a few laughs at Gary Austin's Improv before heading over to Canter's Deli on Fairfax for a late dinner, matzo ball soup or sample their baked goods.
Rock 'n Roll All Night
Bang your head at one of the city's many rock clubs. If you like live music you will be in good hands as Los Angeles is a big music town. The Sunset Strip is home to a few of the more famous clubs and many regional touring and up-and-coming local acts ply their trade here.
Search for the ghosts of rock 'n roll at the Whisky A Go Go club. The Whisky, as everyone calls it, has seen many now famous bands wander through. Neil Young played here with Buffalo Springfield once as did Otis Redding, Jimi Hendrix, The Byrds, Neil Diamond, The Who, Led Zepplin and Oasis.