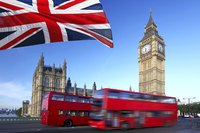 Although weather discussion in England includes references to heat waves and blizzards, visitors from the U.S. might be bewildered to find a surprisingly temperate climate that rarely matches the extremes back home. As a result, the deciding factors for timing a visit to England are likely to be price and availability.
Weather Considerations
England's cities are much less vulnerable to seasonal factors than their counterparts on the European continent. While the August exodus to the coast by residents of Paris or Rome, for example, means visitors are faced with a restricted selection of restaurants and cultural sites and a feeling of being in the right place at the wrong time, the same is not true in England, where urban conditions over summer are less oppressive.The only places that aren't worth visiting in winter are the coastal towns that depend instead on summer tourism. Typically, expect temperatures to hover above freezing during January and February and to loiter around the low 70s Fahrenheit in July and August, with minimal regional variation. The main caveat is that when snow or high winds do occur, it appears customary for public transport and road networks to grind to a standstill or experience significant delays at best, reports "The Guardian."
Lower Rates vs. High Season
Frommer's recommends visiting from Nov. 1 to Dec. 12, and from Dec. 25 to March 14 to take advantage of the lowest hotel rates and airline fares. Expect reductions in hotel rates of up to 20 percent during this period. Generally, June through the end of September is peak season. If you're visiting the coast or camping during summer, you'll need to book in advance and can expect heavy traffic delays on bank holidays if you're heading to the South Coast or West Country. The school summer vacation, when most families travel, runs from the end of July to the beginning of September, so early June is the best time to enjoy sunshine without the crowds. Winter is a great time to visit London for cultural purposes, as the West End theater season hits its stride. Weekday flights are cheaper than weekend ones year-round.
Festivals and Culture
Visiting in winter limits access to certain activities, both indoors and outdoors. Alton Towers, the nation's top amusement park, closes entirely from mid-November to mid-February, while many National Trust stately homes close over the winter, too. Sports fans can follow live soccer from August to June, cricket from April to September, and horse racing from March to November. The summer months also herald the return of numerous open air music festivals that attract top international talent, starting with Glastonbury in June and finishing with the Notting Hill Carnival, Europe's largest street festival, on the bank holiday weekend at the end of August.
Touring Farther Afield
Outside the major cities, seasonal variations express themselves more distinctly. Towns along the South Coast, such as Brighton, Eastbourne and Bournemouth, see an influx of foreign language students during summer, affecting the availability of budget accommodations and adding to the crowds. Likewise, university towns such as Oxford and Cambridge hand themselves over to language students during the summer vacation, although some colleges and halls throw open their lodgings to budget travelers. Head to the Lake District in winter, and hiking can be treacherous and roads impassable in the snowfall. Go between June and August, on the other hand, and accommodation prices rocket and traffic jams take over a scenic region otherwise known for its tranquility.