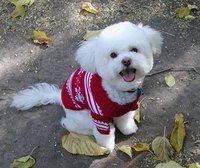 Show your favorite dog you love her with a classic dog sweater to ward off the winter chill. A homemade dog sweater offers a multitude of options to fit any style or size and takes very little time to put together. Create the perfect canine cozy using these helpful tips.
Size Up Your Pet
Not all dogs are created equal; at least not in terms of size. While some dog sweaters will work wonders for a teacup poodle, they may be less feasible for larger breeds. To make sure you create a sweater that fits well, measure your dog in the following areas: The base of the neck to the start of the tail; this gives you a good estimation for length. The area around the chest and back to determine the appropriate width of the sweater. Around your dog's neck.
Use these measurements to make sure you have a sweater that fits snugly, so as not to get tangled as your pet moves around. It is important you do not dress your pet in loose articles of clothing, as the dog could easily get caught and be injured. Be careful, however, to create a sweater that is neither too loose nor too tight, as the ideal dog sweater should hold close (but not tight) at the top of the legs, just slightly looser at the neck and snug around the chest area.
Dog Sweater Variety
Making a dog sweater doesn't have to be complicated. Here are a few simple ideas for dog sweater design: • Make a dog sweater by cutting up an adult-size argyle sock (this is a quick no-fuss method). • Knit a dog sweater, either in a basic garter stitch design or jazz it up with elegant cable or intarsia details. • Crochet a dog sweater using the double crochet stitch. • Sew a quick dog sweater with fleece fabric. • Sew a vest-style dog jacket using flannel from an old shirt. • Recycle a toddler's sweater into a dog sweater with a few simple modifications.