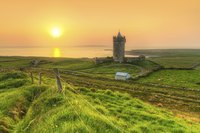 Steeped in folklore and with a magical aura that lingers like the morning's mist, Ireland has much to offer visitors, from natural wonders such as the Cliffs of Moher and historic artifacts including the Book of Kells to its thoroughly modern capital, Dublin. Relaxing and enjoying Ireland is easy, whether you choose a round of golf or a round of Guinness.
Dublin
On the face of it, the dirty old Dublin of Joyce and other literary figures seems almost unrecognizable from the modern metropolis you'll see crossing the River Liffey via the Samuel Beckett Bridge. Take a literary history walk, visit the seven-story Guinness Storehouse -- the center of which is shaped like a giant pint glass -- or the atmospheric Long Room of Trinity College where the Book of Kells is stored. Other unmissable attractions include the National Gallery, Dublin Castle and St. Patrick's Cathedral. After playing its role in some of the most dramatic and tragic moments in Irish history, Kilmainham Gaol now is a museum.

Western Ireland
County Clare is packed with natural wonders, from the Cliffs of Moher to the limestone karst plates of the Burren; despite its bleakness, this place is a haven for plants and animals. On a clear day, the view from O'Brien's Tower on the Cliffs of Moher is hard to beat, offering a vista that stretches across Kerry and Connemara. Out in the middle of Galway Bay, the rugged and unspoiled Aran Islands offer a chance to immerse yourself in Irish culture; Gaelic is the dominant language on the three islands of Inis Mor, Inis Meain and Inis Oirr.
The Ring of Kerry
For most people, a tour of southwestern Ireland is the epitome of everything Irish: idyllic villages with painted rows of stores and pubs, and a beautiful, untouched natural landscape. The main tourist route is along the 140-mile Ring of Kerry, offering one scenic view after another from Killarney onward, while the Atlantic Ocean dominates Ireland's most westerly promontory, the Dingle Peninsula. The 25-mile drive around its coast is heavy with the smell of peat, the sight of sandy beaches and Dingle Town with its still-working harbor.
The Giant's Causeway, County Antrim
The Giant's Causeway is the biggest draw in Northern Ireland for visitors. Located about one hour's drive from Derry, a volcanic eruption some 60 million years ago forming a lava plateau of layered basalt created the causeway. Many people once believed the unique rock formation had been made by mighty giant Finn McCool, and its origin still is the subject of scientific debate. For a bird's-eye view of the causeway, hike along the cliff-top trail during good weather.