New York City is one of the most recognizable icons in the world. Between the New York City skyline, Statue of Liberty, and the Brooklyn Bridge, you don't need to visit New York to recognize these landmarks. New York crops up in movies, songs and books more than almost any other city on earth. When it comes to planning a New York theme party, the problem isn't how to do it, but how to include everything.
(Comstock/Comstock/Getty Images)
Party drinks can be really creative. The classic Manhattan was a favorite with New York's most-loved crooner, Frank Sinatra. Serve these drinks in chilled cocktail glasses with a maraschino cherry. McSorley's Old Ale House in the Village is New York City's oldest continuously operating saloon. Stock bottles of their house ale for an authentic New York experience. Even kids can get in the act with a virgin Manhattan with orange, cranberry and cherry juice. Serve in a cocktail glass with three maraschino cherries spiked with a striped mini-straw. Finally, you can't go to a deli in New York City without drinking a Dr. Brown's. This brand of soda comes in at least six flavors including cream, black cherry, orange, ginger ale, root beer and Cel-Ray (a surprisingly delicious celery-flavored soda).
Ryan McVay/Photodisc/Getty Images
The question isn't what kind of music to play at a New York themed party, but what to leave out? There's only so much time to play all the hits. Load your iPod with songs about the Big Apple like New York, New York by Frank Sinatra, New York State of Mind by Billy Joel, Autumn in New York by Ella Fitzgerald, and Walk on the Wild Side by Lou Reed. Don't forget soundtracks from hot Broadway shows like Rent and West Side Story, two seminal plays about New York City.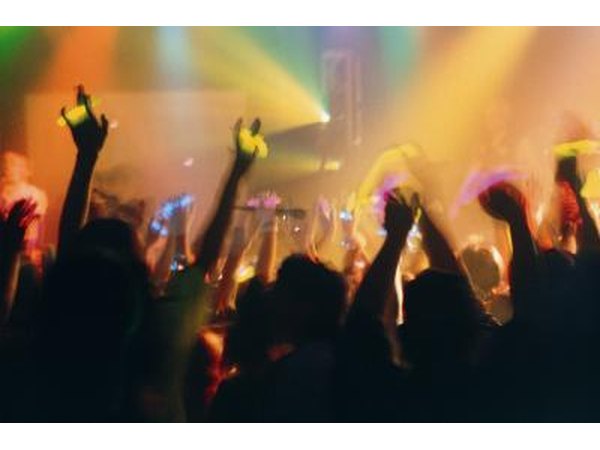 Digital Vision./Digital Vision/Getty Images
Going overboard with New York themed decorations can be an easy trap. Try to choose just one theme, like New York City neighborhoods, or New York sports teams. Try this theme for those who can't get enough of a Broadway state of mind. For arranged seating, give each table a Broadway show name rather than a number. Try "Phantom of the Opera," "Cats" and "Mama Mia." Cut out stars from cardboard. Paint them blue or pink and use them for seat-assignment tags. Stage lighting will give your bash an authentic stage look. Cover some of the lights with red or blue gels to add ambiance. Throw the party in an actual theater—even a small church theater will work. Be sure to have a marquee sign at the entrance announcing the guest of honor, and print invitations that look like Broadway tickets.
Jupiterimages/Goodshoot/Getty Images
Promoted By Zergnet