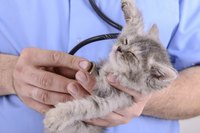 Treating a feline's liver disease ultimately depends on the disease' underlying cause. The two main causes of liver problems in cats are hepatic lipidosis and cholangiohepatitis. Some natural remedies may help treat these and other liver problems in cats, but veterinary attention is absolutely necessary to diagnose and properly treat liver disease.
Many Potential Problems
Liver disease can be acute or chronic. Cats are more prone to acute liver disease, caused by a range of things such as toxins, hepatic lipidosis or fatty liver disease, and infections. Genetics, infections and idiopathic hepatitis are common causes of chronic liver disease. Blood tests, which reveal liver enzyme levels, radiographs and biopsies are helpful tools for the vet's diagnosis, since many of liver disease's symptoms can mimic those of other illnesses. Symptoms such as lethargy, appetite and weight loss, vomiting, fever and increased thirst are seen in liver disease as well as in other illnesses. In more advanced cases of liver disease, jaundice in the eyes and gums may be present.
Veterinary Attention Necessary
When the vet has a diagnosis, he can address the cause of your cat's liver problems as well as the damage to her liver. Hepatic lipidosis, the most common cause of liver problems in cats, requires quick, aggressive treatment for a successful outcome. Veterinary treatment including forced feeding and fluid replacement, is vital for a cat with fatty liver disease. Cholangiohepatitis, an inflammation of the liver and bile ducts, requires similar professional intervention. Other veterinary treatment protocols for liver problems include chemotherapy and a host of medications including antibiotics and corticosteroids.
Supplemental Help
Once you and your vet have established a treatment plan, you can discuss the use of supplements to help the healing process. Various natural treatments and supplements are considered especially helpful in healing the liver. S-adenosylmethionine, or SAMe, is a popular supplement reportedly helpful for repairing a damaged liver. Dr. Ronald Hines of 2ndChance.info notes that SAMe's effects haven't been proved effective, but he finds no harm in giving it to a cat suffering from cholangiohepatitis. Milk thistle, also known as silymarin, has many fans inside and outside the veterinary community. Dr. Jean Hofve of LittleBigCat.com says the herb is effective in treating liver diseases, including fatty liver disease, chronic hepitatis and cholangitis. It protects the liver against toxins while stimulating growth of new liver cells to replace damaged cells, as noted by Veterinary Practice News.
The Right Diet
If your cat has liver problems, what and when she eats can make a difference. Dr. Hines advocates feeding a highly digestible diet, one that's high in protein and low in carbohydrates, in small amounts throughout the day. He cautions that a cat with very advanced liver disease should have a strictly monitored protein level since the liver can't effectively process the ammonia generated by a high-protein diet. When your cat is on the path to recovery, discuss her diet and supplement regimen with your vet.