From gaping canyons to spewing geysers to hot springs cascades, Yellowstone is one of the world's natural treasures. Established in 1872 as the first national park in the world, Yellowstone houses a diverse array of flora, fauna and geological wonders. Whether you want to marvel at fields of bison, peer deep into the colorful morning glory pool or watch Old Faithful erupt like clockwork, Yellowstone will keep you busy for days. However, since most of the park is closed in the winter and summer crowds are mostly massive, finding the best time to see Yellowstone's wonders is tricky business.
Weather
From November to April, most of Yellowstone is closed due to snowy conditions and cold temperatures. Snow can continue even into the spring and early summer months. Nonetheless, many visitors endure the cold and wet May and June conditions to see the newborn animals that frequent those months. Although the temperatures begin to cool during September and October, the weather is mostly pleasant and, more importantly, the crowds are thinner and the prices are cheaper.
During the Winter, only the road from the North Entrance to the Northeast Entrance remains open to cars. Other roads remain open to oversnow vehicles. Certain park services and facilities operate during the winter for people who want to see Yellowstone in its majestic snowy glory. Winter activities include snowmobile tours, snowshoeing and cross-country skiing.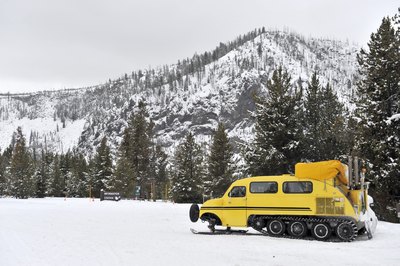 Crowds
While the July and August weather in Yellowstone is lovely and the wildlife is in full stride, the crowds can be a bit overwhelming. More than 1.5 million visitors descend upon Yellowstone in these months. As a result, you can expect huge crowds, traffic jams and limited parking. Since Yellowstone is such a large park, certain areas will be less crowded in the summer, but you can expect quite a bit of congestion at the more popular park areas such as Old Faithful and Mammoth Hot Springs.
Hiking trails are far less congested than the roadways in the summer. Shuttle companies offer services within the park so you do not need to worry about parking if you want to access Yellowstone's world-class trails. Crowds are more bearable in early season (May and June), late season (September and October) and winter.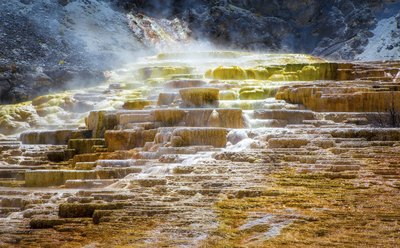 Lodging
Like the rest of the park, lodging in Yellowstone is at full capacity during the summer months. If you plan on going in the summer, make sure to book far in advance. For those who want to brave the snow, Old Faithful Snow Lodge and Mammoth Hotel have winter seasons. Remember that road access during the winter is mostly limited to over-snow vehicles. Contact a company that offers winter Yellowstone tours for more specific information. Since Yellowstone is more inaccessible during the winter, the lodges are usually more available. If you can brave the cold, the winter landscapes are well worth your time and energy.