On the fruit diet, a strict vegetarian diet also known as a fruitarian diet, 75 percent of your intake is limited to raw fruits, with the other 25 percent coming from raw vegan foods such as nuts, seeds and vegetables. A fruitarian diet may help you lose weight, but it may be difficult to follow long term. Consult your doctor before starting any weight-loss diet.
The Fruitarian Diet Details
The basis of the fruitarian diet is to consume foods that do not harm the plant, which means consuming only the fruit and seeds the plant produces. This includes fruits such as apples, oranges, pears, berries, cucumbers, tomatoes and avocados. Grains, beans, nuts and seeds are also allowed based on this concept. However, a root or leafy vegetable, such as a carrot or lettuce, is not allowed because harvesting kills the plant. These foods are generally consumed raw. According to Every Diet, organic eggs are also allowed on the diet.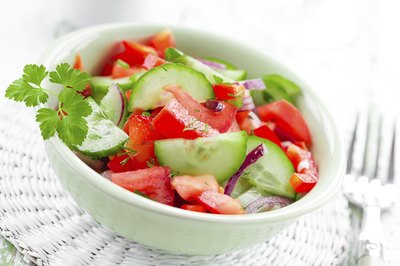 Calories Count
To lose weight following the fruit diet, you need to eat fewer calories than your body burns. Filling your diet with mostly fruit can help you reduce your overall calorie intake.
To lose 1 pound of fat a week, you need to reduce your intake by 500 calories a day. Tracking your daily intake, along with weekly weigh-ins, can help you determine your weight-loss calorie needs. The National Heart, Lung and Blood Institute suggests that weight-loss calorie needs range from 1,200 calories to 1,800 calories a day and vary depending on gender and activity.
You do not want to eat fewer than 800 calories a day unless monitored by your doctor, and you should not lose more than 2 pounds a week.
Pros and Cons
Fruits are low in calories and high in fiber and other health-promoting nutrients such as potassium, vitamins A and C and folate, and they make a nutritious food choice, especially when you're trying to lose weight.
However, the fruit diet is very restrictive and may increase your risk of nutritional deficiencies, most notably vitamin B-12, which is naturally found only in animal products. You also have to be very mindful of your food choices to ensure you meet your daily calcium, iron and vitamin D needs, as well as your calorie needs. You also face a higher risk of zinc and omega-3 fatty acid deficiencies. A vitamin supplement may be necessary, which you should discuss with your doctor.
Sample Meals
For breakfast, you might have two organic eggs hard-boiled with one small apple, one small orange and one small banana with 1 ounce of raw almonds. This meal contains 510 calories.
At lunch, consider 2 cups of chopped tomatoes mixed with one chopped avocado and 1 cup of chopped cucumber topped with 1 ounce of chopped raw cashews. This meal has 590 calories.
A healthy fruitarian dinner might include 1 cup of sliced peppers with 1 cup of sliced summer squash, served with 3 cups of melon and 20 walnut halves. This meal has 490 calories.
One hundred-calorie snacks might include a medium pear, two kiwi fruit, 30 grapes, 20 raw peanuts or 16 large black olives.