It may seem as simple as eating more calories, but if you want to gain weight healthfully, you need to fill your diet with a variety of high-calorie, nutrient-rich foods from all the food groups. To gain 1 pound a week, you need to eat an additional 500 calories each day. Get to know the higher-calorie food choices in each food group to help you get the most calorie-bang for your calorie-buck.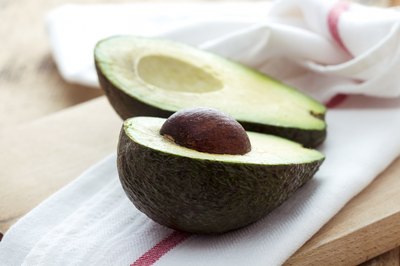 Gain With Grains
You might think whole grains are for people who want to lose weight, but a number of whole-grain foods are a concentrated source of calories, and rich in B vitamins, iron, magnesium and fiber. If you're feeling adventurous, add spelt or amaranth to your regular grain routine. One cup of either cooked grain has 250 calories and are the highest-calorie whole grain options. Brown rice and quinoa are other high-calorie choices, with 220 calories per 1-cup serving.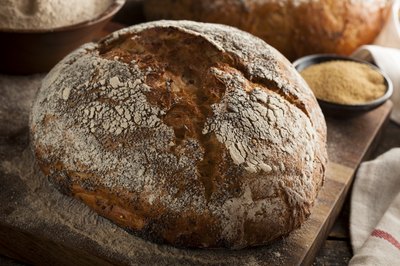 Calorie-Dense Fruits and Veggies
Don't skip the fruits and vegetables on your weight-gain meal plan. Dried fruits, such as prunes or raisins with more than 200 calories per 1/2-cup serving, are not only high in calories, they are a good source of nutrients that may protect you from chronic illness. Mix dried fruits with nuts for a high-calorie snack. Or instead of mayo on your sandwich, add moistness with avocado, which has 120 calories in a 1/2-cup serving. Stick with starchy vegetables, such as peas or potatoes, to add calories. A 1/2-cup serving of cooked peas contains 70 calories, while a small sweet potato contains 100 calories.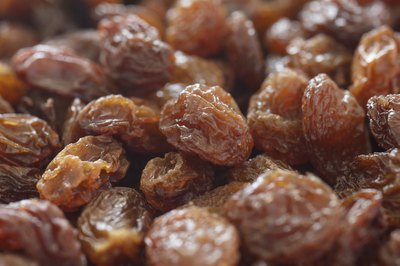 Protein Power
Get your calories and protein from nuts, seeds and fatty fish. Not only will these foods help you gain weight, they contain nutrients that protect your heart, too. The highest-calorie nuts include macadamia with 201 calories per ounce; pecans with 199 calories per ounce; and pine nuts with 188 calories per ounce. Flaxseeds are the highest-calorie seed, with 150 calories per ounce. Highest-calorie fatty fish choices includes mackerel, with 223 calories per 3-ounce serving, and herring, with 213 calories per 3-ounce serving.
Calorie-Booster Dairy Foods
Add calories to sandwiches, casseroles, salads and your favorite cooked veggies with cheese. Hard goat cheese contains the highest amount of calories, with 127 calories per ounce. Or swap low-fat milk for whole milk, which has 149 calories in a 1-cup serving. Dried milk powder is also a high-calorie dairy option, with 149 calories per 1/4-cup serving. Mix it with hot cereal, yogurt, soup or mashed potatoes for extra calories.
Healthy Oils
Oils pack a lot of calories in a small portion, making them a good choice when trying to add calories for weight gain. They are also a good source of essential fats and vitamin E. Olive oil, safflower oil, canola oil and flaxseed oil all make healthy choices, and each contains 124 calories per tablespoon. Use these oils for sautes and stir-fries, or to add flavor to a salad and whole-grain side dishes.