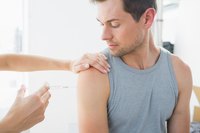 From its dense humid rainforest in the north, to the vast arid valley of Cusco in the south, to an immense coastline along the Pacific ocean, Peru is a country of great geographical diversity. In order to not get sick on your trip, a number of vaccines are required. What you need depends on where in Peru you will be traveling and what you will be doing.
General Immunizations
Before traveling, check that you're up to date on all your routine vaccines, such as those for hepatitis, measles, tetanus and polio. These vaccines are recommended for visitors to Peru since many of the diseases are more common in the country than in the U.S. Most Americans receive their recommended vaccinations as children, but if you aren't sure if you had a specific vaccine, your doctor may give it to you again just to be safe.
Hepatitis A
All travelers to Peru should get the hepatitis A vaccine as there is a risk for this disease throughout the country. Hepatitis A is generally acquired through consuming contaminated food or water. In many regions of Peru, water sources are unclean, and restaurants and street food do not have the same health standards as in the U.S.
Typhoid
Typhoid is a disease that all travelers to Peru should vaccinate against. It is contracted through contaminated food and water, which is not uncommon in Peru's more underdeveloped or rural areas. Most at risk for typhoid are those traveling through rural areas, sampling street food or eating with locals rather than dining in restaurants and hotels.
Hepatitis B
Depending on what kinds of activities you are planning to do in Peru, you may need a vaccine for hepatitis B. Hepatitis B is spread through sexual contact or coming in contact with someone else's blood or feces. If there is a chance that you may get a tattoo while in Peru, have a new sexual partner or undergo a medical procedure, get the hepatitis B vaccine.
Malaria
Some travelers to Peru will want to carry a malaria treatment, taken before, during and after your trip. Malaria is spread through mosquito bites. Travelers to Peru most at risk of contracting malaria are those who visit the northeast jungle region or areas along the northwest coast.
Rabies
Rabies, spread through animal bites, will be of concern to travelers spending a lot of time in the wild, exploring Peruvian caves or doing adventure travel. Wildlife conservationists, field researchers, veterinarians and other professionals who work with animals are at a greater risk. Children should always be vaccinated against rabies prior to going to Peru since they are slightly more at risk of being bitten.
Yellow Fever
A yellow fever vaccine is suggested for travelers in the entire northeastern block of Peru, including all regions that border Ecuador, Colombia, Brazil and northwest Bolivia. All travelers over nine months should get vaccinated for yellow fever if traveling anywhere north of Cusco or east of Huanuco.