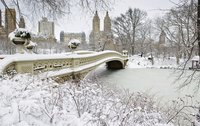 New York generally isn't a cheap travel destination, but if you're looking for bargains in the Big Apple, you can usually find them after the holidays. Avoid travel between Thanksgiving and New Year's Day; not only will you pay premium prices, you'll also find the city more claustrophobic than usual with holiday season tourists.
Winter Travel
Travel to New York City from early January through April for the cheapest rates. The holiday crowds will have vacated hotels and you'll get some great discounts. Avoid the city during seasonal events, such as Fashion Week in February, that bring huge crowds to certain areas of the city and raise prices.
Trains and Planes
Do some comparison shopping online and sign up for fare alerts on sites that contact you when ticket prices to New York City drop. If you're near a city on the East Coast, you can take the train or a bus to the city for cheap.