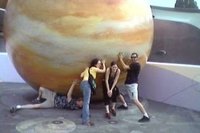 A visit to Disney World isn't all about riding rides, and no park proves it more than Epcot. While the rides there are varied and entertaining, you can spend the entire day enjoying many different activities without ever fastening a seat belt.
Innoventions
Innoventions East and West are electronic interactive museums designed for family fun with a science twist. Solve puzzles, play games, create a photo e-postcard and send it to family members, learn to ride a Segway, do crafts, discover facts. Great for rainy times or hot afternoons, these two buildings are the perfect way to spend a few hours during your day.
Eat or Drink Around the World
As of 2009, Epcot has 11 different permanent country pavilions. Each one has its own restaurant, snack bar and treat shop. Spend an afternoon trying one sweet treat, one piece of chocolate, one appetizer or one beverage from each country. If you have a group, share them around. If that's too much for one afternoon, get a pastry box from one of the shops, and buy a cookie from each country. Keep it in your room for treats for the week. Just don't forget which country made each cookie in case you want to get more.
Free Entertainment
Epcot is filled with free ways to spend your day. Each country has native performers giving shows about every hour on the streets of the World Showcase. From the Beatles tribute show in England to the Chinese acrobats, from the Italian mimes to the Canadian kilt-wearing comedy troupe, you can always find something to watch. Some of them will even get audience members to participate, so act like you want to join in and you may get a shot at showbiz.