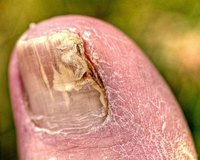 Toenail fungus is both unsightly and difficult to cure. Since a toenail fungus infection occurs within the nail, the only way to clear the infection is to grow a new toenail. Treatment options vary, but prescription medicine and surgical removal of the toenail are the most effective options. However, due to the length of time one has to use toenail medication and the potential side effects, prescription medication can be expensive and dangerous.
Over-the-Counter Medication
Very mild toenail fungus infections may respond to over-the-counter medication, ointments and polish. Some of these nonprescription medications contain a substance known as tea tree oil. Taken from an Australian plant, tea tree oil has antifungal properties that may clear up minor toenail infections. According to the Mayo Clinic and a 2004 New York Times article, these nonprescription toenail fungus medications are not particularly effective unless your infection is not severe. However, when used in conjunction with prescription medicine, over-the-counter ointments can help the overall treatment process .
Prescription Medication and Surgery
For more severe cases of toe fungus, your doctor can prescribe a variety of oral and topical medications. Oral medications such as Itraconazole, Fluconazole and Terbinafine help isolate the infection and promote healthy infection-free nail growth. While oral medications can certainly help, people must take them for up to three months to see effects. Even then, it can be another four months or more for a new infection-free nail to grow. Some potentially serious side effects are also possible with these oral medications and prices can reach into the high hundreds of dollars. If the toenail fungus isn't too severe, a prescription antifungus nail polish can help certain people. Patients apply this ciclopirox polish onto the infected toenail once a day for a week. After a week, patients wipe off the polish and continue the process again for up to a year. Ciclopirox clears some toenail infections completely but over 90 percent of people still have some amount of toenail infection despite proper ciclopirox use. In extreme cases, a doctor may have to remove the toenail surgically. Once the fungal-infected toenail is gone, a new fungus-free nail will grow in its place.
Prevention
Since most antifungal toenail medications are expensive, potentially dangerous, unreliable or a combination of these factors, the best cure for toenail fungus is to take steps to prevent it from ever forming. Like athlete's foot, people often contract toenail fungus in the locker room or in shared showers. Wearing flip-flops or other sandals in the shower, by the pool and around the locker room will protect your toenails. Likewise, don't share socks or shoes with other people.
Another prevention technique recommended by Boston area dermatologist Dr. Lynn A. Drake is regular toenail maintenance such as keeping your toenails short and groomed. Additional prevention methods may include antifungal shoe powder, orthotic shoe devices and synthetic socks. People who wear nail polish, visit pedicurists or use nail extensions are advised to take special precautions to ensure sanitary conditions and/or application.