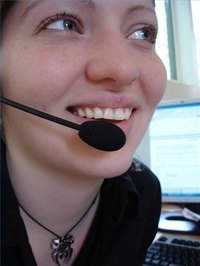 Customer service representatives are the face of your business. They are often the only human connection between your customer and your business. In addition to hiring employees who are pleasant, well-spoken and who are strong communicators, thriving companies must create and maintain an effective customer service training program. This, along with periodic refresher courses and continuing education classes, can literally determine your company's level of success.
The Job Matters
According to Andrea Chilcote, owner of Morningstar Ventures, "Men and women in organizations today are searching for meaning, work that has purpose."
Whether your company sells medical supplies or gives facials, it's important to outline the benefits to your customers so that employees understand that they are making a difference in people's lives. Teach your customer service representatives that their jobs matter---that they are providing a service to people who need it.
Share your company's mission statement and help employees understand why they matter. This increases company loyalty as well as performance levels among employees and can only be good for your business.
Empowering Employees
Nothing is more frustrating for a customer than a customer service representative who can't help to fix the problem. During your customer service training, provide customer service representatives with a clear outline of how to handle customer complaints and concerns effectively, and for the best level of service to your clients, empower them (or at least their immediate supervisors) to do whatever is necessary to maintain the customer relationship, within reason.
Think Like a Customer
Work with customer service representatives to help them understand the image a customer perceives of your company. For example, a customer should never hear, "I don't know" or "I can't help you." Instead, customer service representatives can say, "I am not sure, but I will find the answer for you" or "Let me find out for you."
The Customer is Always Right
Unless a customer is verbally or physically assaulting your customer service representatives, the customer should always win. Teach your representatives to avoid arguing with customers. They should always listen and respond with empathy and ask appropriate questions. And, when needed, an effective customer service representative will admit when a mistake has happened, apologize and make it right.
Continuing Education
Require your customer service representatives to refresh training each year, and offer additional educational and training opportunities regularly. Continuing education keeps employees interested and up to date and makes them feel important, which increases overall productivity. If you don't have the resources easily available to you, companies such as Administaff can function as a human resources department and educational provider for your company.