Treadmills are great home or gym equipment that let you get a solid workout all year long regardless of the weather. It is best not to simply turn the treadmill on to the desired speed and time your walk or run. For the most effective fat burning workout on a treadmill, interval training with varying intensity is the way to go.
Interval Training
Treadmill interval training presets are the ideal way to burn fat on a treadmill. This type of training varies the intensity from a lower level to a higher level and back to a lower. A 30-minute run on a treadmill at 65 percent intensity is a good workout but burns fewer calories than an interval workout in which half the calories burned are fat. Doing a higher intensity for the duration of the workout will burn more calories but only a small percentage of them fat calories. By starting at 65 percent and raising it to 95 percent, then going back to 65 percent, you can burn more calories with approximately one-third being fat calories, thus making the same time on the treadmill more effective. Calories burned depend on your weight and oxygen consumption, but expect to burn 8 to 15 calories per minute.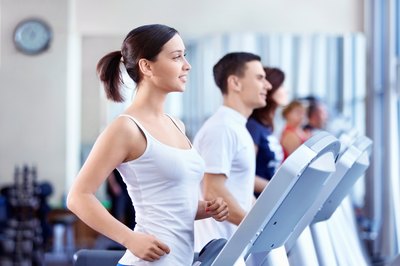 Treadmill Levels
Most treadmills have a variety of levels for speed and incline that challenge you in different ways. The interval training may start with the treadmill at a level 5 with no incline and increase to a level 8 with a 2-level incline. You can do interval training according to preset programs or manually, depending on your goals. Regardless of which way you choose to use the treadmill, it is important to monitor your heart rate to determine whether the levels are too strenuous or not strenuous enough.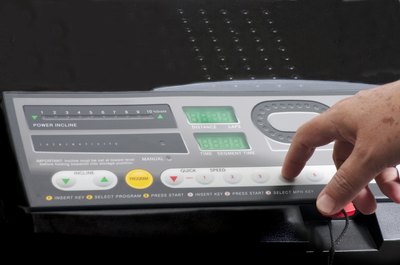 Heart Rate
It is important to know what your target heart rate is for each part of your workout. To most effectively calculate your maximum heart rate (MHR), use the following formula: MHR = 206 - (0.67 x age). The target heart rate is 60 percent to 80 percent of your MHR. You should be at 60 percent of your MHR during the first stage of interval training, then move up to 80 percent for the intense portion, then back down again.