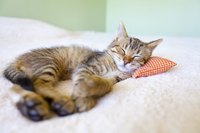 If Kitty displays anxiety-related behavior, such as aggression or urine marking, an anti-anxiety drug can bring relief. Medications given to cats to alleviate anxiety are the same drugs used for people, just in smaller doses. Your veterinarian will prescribe a medication best suited to treat your cat's primary symptoms. First, she will conduct a thorough physical examination, including blood tests, to ensure your pet's problems don't result from an underlying illness rather than behavior.
Valium and Xanax
One of the older anti-anxiety medications, diazepam, is still used to treat felines. Marketed under the brand name Valium, your vet might prescribe this drug for a cat whose primary symptom is anxiety and fear-related behavior. Alprazolam, better known as Xanax, is more often used in dogs with specific phobias, such as loud noises, and can be given in a single dose if a thunderstorm is anticipated or it's the Fourth of July. While cats are less likely to experience loud noise phobia, alprazolam is useful for treating short-term anxiety, such as a long car trip.
Selective Serotonin Reuptake Inhibitors
Fluoxetine and paroxetine, selective serotonin reuptake inhibitors, might be prescribed for cats suffering from aggression, anxiety or compulsive disorders. These drugs, marketed under the names Prozac and Paxil, usually require several weeks of administration before the cat exhibits any behavioral changes. Selective serotonin reuptake inhibitors increase the amount of serotonin in the cat's brain, making the animal feel less anxious and potentially reducing aggression. As in people, selective serotonin reuptake inhibitors act to improve mood.
Urine Marking
Buspirone hydrochloride, marketed under the name Buspar, is the drug of choice for treating urine marking in felines. Urine marking is often a sign of general feline anxiety. Expect your cat to take the Buspar daily for several weeks before seeing any behavioral change. Because Buspar causes Kitty to lose his inhibitions, your cat might exhibit personality changes -- usually for the better -- while on this medication. That includes a constant need for affection.
Side Effects and Contraindications
Antidepressants given to cats can cause certain side effects. These include vomiting and diarrhea, appetite loss, body temperature rise, disorientation, tremors, breathing difficulties and rapid heartbeat. Some cats might experience seizures or have problems walking, while others might become aggressive or hyperactive. Cats with underlying conditions, such as diabetes, kidney or liver disease, should not receive certain anxiety medications. Most of these medications are not suitable for pregnant or nursing animals.