For a kid, nothing beats having a backyard playground for gathering with friends. Creating this space for your children requires careful consideration of safety, location and attractive but low-maintenance plantings. Landscaping a backyard containing a playground still involves creating a usable, attractive space. However, choosing kid-resistant materials, shrubs and plants will help this backyard paradise grow and thrive, just as your children will.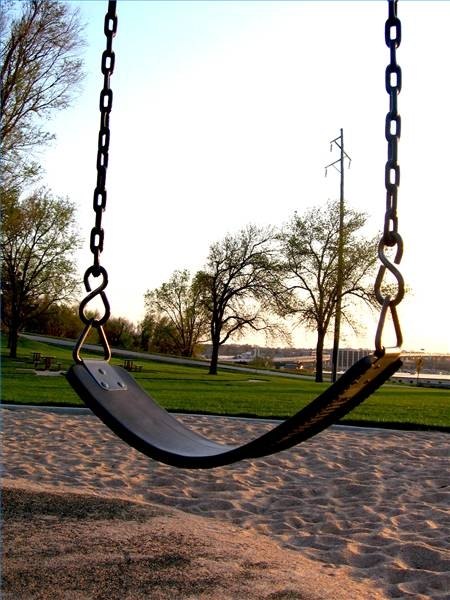 Framing off the playground area with wooden railroad ties or edging allows the installation of sand, rubber mulch or hardwood mulch. Creating a soft landing area for swings, slides and monkey bars will help protect your children. Consider placing outdoor rubber mats instead of mulch to provide a durable surface beneath the play set. Framing off the play area will create a manicured look to your backyard and keep the mulch off your grass areas. Make sure to place your play area well away from concrete or brick patios for safety.
Wojciech Kaczkowski/Hemera/Getty Images
Placing fragile roses or annuals around the perimeter of the play area will only invite damage to these tender plants. Your choices for landscaping shrubs, trees and plants need to be sturdy enough to handle kids at play. It's best to never plant anything around the framed perimeter of the playground area. Instead, focus on plantings in areas designed for adult use. Limit perennials to areas under trees and gardens along your fence or property line and choose sturdy, low-maintenance plants such as ornamental grasses. An errant thrown ball or tumbling kid can trample a shrub or plant in the blink of an eye.
Snehitdesign/iStock/Getty Images
If you've got enough room, add a large grassy area into your landscape design to allow for games and rough play. Incorporate a grassy area around the perimeter of the framed playground area for safety. In addition, leaving a large area of uninterrupted grass gives your kids the perfect incentive to play soccer, football and baseball away from the house. Choose a hardy type of grass seed that can withstand trampling feet. Visit your garden center for advice about grasses that grow best in your area. Make sure the yard drains properly so puddles and muddy areas aren't present.
Shade during the hot summer months will keep your kids outside playing instead of cooped up inside in the air conditioning. Incorporate shade trees into your landscape to shade portions of the back yard. Plant one or two behind the play area and nurse them to grow for a shady canopy over the play set. Space trees in your hard to provide pockets of shade to cool the grassy areas, making sure to leave that open play space for games and fun.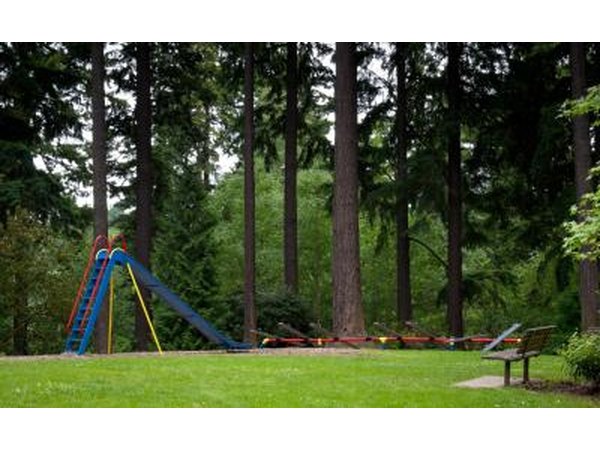 stanfram/iStock/Getty Images
Create splashes of color throughout your backyard landscape by carefully using the kid-free areas. Use containers on your patio for flowing annuals and vine plantings. Containers grouped together create an instant garden without the fuss or space. Incorporate iron plant hangers onto deck posts and as freestanding additions to the grass area outside your patio. This will add color add variety to your yard without the creation of large gardens.
Plant gardens close to the house, as far away from play areas as possible. There's nothing saying your backyard playground can't be an adult paradise as well. However, it's best to keep landscape bushes, shrubs and plants well away from the play area. Frame your patio with irregularly shaped gardens to draw the eye to these gathering spaces. Terraces or retaining walls also delineate a patio area well, separating it from the grass and play area.
Brigitte Smith/iStock/Getty Images
Fencing is an integral part of a backyard landscape and this tool can be used to protect your kids. In addition, fencing can frame the backyard to complement your home exterior. Whether you choose a solid wood stockade fence or a four-foot wooden slat fence, pick fencing that will be low maintenance, sturdy and attractive. Kids will be bumping into it and kicking balls into it. If you're averse to fencing, consider planting a groomed hedge to delineate your yard. Always check neighborhood covenants before building any structures on your property.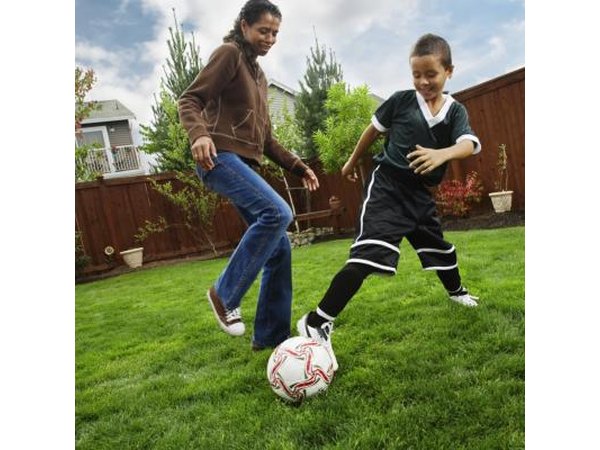 Fuse/Fuse/Getty Images
Promoted By Zergnet