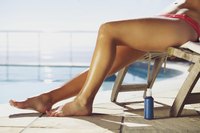 Thanks to advances in chemistry, it's possible to get a beautiful tan without stepping foot in the sun or lying in a harmful tanning bed. Sunless tanning, or spray tanning, is the application of the color additive dihydroxyacetone to your skin. When the chemical reacts with dead skin cells, your skin turns a darker color. The color typically lasts only a few days -- or longer with good preparation and after care. A few tips will ensure a tan that's sleek, not streaky.
Hair Removal
Wax any part of your body at least 24 hours before your spray tanning appointment. This gives your hair follicles adequate time to close up before your spray tan. If you shave, do so at least six hours in advance and with only soap and water. Many shaving creams contain lanolin – an oil that serves as a barrier between your skin and the spray tan, making it harder for it to stick.
Smooth the WAy
Exfoliating – or removing dry skin cells – helps ensure a smooth, even application during a spray tan. Exfoliate at least eight hours in advance, and pay extra attention to areas that are especially rough, like your elbows, knees, feet, and hands. Exfoliate with a salt or sugar scrub, or apply a body wash with a loofah or wash towel.
Go Bare
Shower on the day of your spray tan to remove moisturizer, makeup, deodorant and fragrance. These products can create a barrier on your skin that affects absorption of the spray tanning solution. When you do shower, skip bar soap -- which leaves a layer of film on your skin -- and use an oil-free body wash instead. Skip the moisturizer and show up to your appointment with fresh skin.
After Your Appointment
Although you'll probably want to shower immediately after your spray tan, resist the urge. Wait eight to 10 hours, because your tan is still processing during this time, and avoid swimming or exercise that makes you sweat. If possible, go to bed with the tanning solution still on your body and shower in the morning. When you do shower, wash with a body wash or soap, but no loofah or exfoliating scrub. Exfoliating can remove the color from your tan. You'll probably see some color come off in the shower, but this is completely normal. Moisturize two to three times a day afterward.