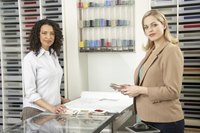 Personal selling is an important tool for marketing complex or high-value products and services, such as cars, computer systems, consultancy and financial services. Regular face-to-face contact is also essential for maintaining close relationships with a company's biggest customers. While sales skills and personal qualities such as empathy, confidence and persuasiveness are key to successful personal selling, marketing services such as email campaigns, corporate advertising and sales promotion provide valuable support to the sales team.
Balance Internal and Field Sales Resources
Field sales representatives spend only part of their time face to face with customers. They must allocate time for prospecting for new business, maintaining contact with customers between visits and monitoring progress on customers' orders. To give representatives more time for personal selling, an increasing number of companies are recruiting internal sales representatives, according to Insidesales.com. The internal sales team can take responsibility for maintaining telephone contact with customers, following up sales leads and making appointments for field representatives, and liaising with internal departments responsible for meeting customers' requests, such as sales order processing, production and logistics.
Build Company Credentials with Corporate Communications
Corporate communications activities such as corporate advertising, press releases and company presentations help to build confidence in a company. Corporate communications describe a company's market position, experience, technical capability, product range, customer profile and financial stability. If a sales representative is trying to win a major contract, corporate communications help to convince the prospect that the company is capable of meeting its requirements. Corporate communications also can maintain a company's reputation, which can be damaged by adverse publicity such as negative reviews on websites or in the press. Forbes notes that a poor reputation can result in serious sales losses, making it essential to support sales reps with positive communications.
Maintain Customer Contact with Email Campaigns
Running email programs helps companies maintain contact and build relationships with prospects and customers between sales visits. Send existing customers newsletters to keep them up to date with developments in the company as well as personalized email alerts about product or service announcements relevant to their business. Email also can help nurture sales leads and support the efforts of the field reps. According to marketing specialists Eloqua, companies should run email campaigns in stages, offering prospects general company and product information, followed by detailed product information and invitations to a meeting. This enables companies to take prospects from initial awareness to a position where they are ready to meet a sales rep.
Encourage Purchases with Promotional Campaigns
Running a sales promotion campaign can help representatives close deals, increase sales or get more opportunities to meet prospects and customers. Offering special deals on new products, for example, can help reps meet or exceed their product launch targets. Promotional discounts or special offers, such as free delivery, can make customers and prospects more willing to buy or bring forward purchase decisions.