A fishing theme is a great way to decorate a rustic cabin or country styled home. Not only does it allow the home owner to show off his or her own fishing equipment collection and trophies, but it also brings a down-home comfort to a living room, den, kitchen or bedroom. As with any theme-decor you don't want to overdo it by cluttering the space with kitschy novelty items, but enhance your rustic setting with both classic fishing history and personal experiences. Here's how to get started.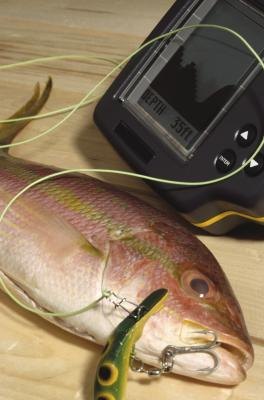 (Hemera Technologies/Photos.com/Getty Images)
The walls for a fishing themed room just have to serve as a backdrop for framed artwork and vintage items so paint color should be a neutral tone of browns or blues. For a living area, paint an accent wall in a deeper shade of the color of the rest of the room and use this wall as your backdrop for vintage items and fishing related artwork and photos. Cover den walls in board and thatch like a tropical beach hut.
To create a fishing theme in a living space or den hang vintage fishing rods on the walls -- a few small nails will be enough to hold them in place. Display antique fishing lures in shadow boxes on the wall. Use rustic frames, made from driftwood or whitewashed, to showcase personal fishing photos of the big catch. Fishing trophies on small shelves mounted on board-and-thatch wall covering create the ambiance of a primitive fishing hut for a serious angler. Use up-lights to add dramatic shadows at night and to showcase your collection of fishing items.
A tackle-box can be used for many things throughout your fishing themed home. Find vintage tackle-boxes made out of metal at antique malls and flea markets. Clean them up and glue a piece of felt to the bottom so that you don't scratch furniture or leave rust marks on carpeting or flooring. Use tackle-boxes to hold DVD's, cosmetics, toiletries, kitchen recipes or a spice collection. A woven creel is another fishing-themed catchall to hang on the wall or the back of a door for catching the mail, keys and anything small that needs organizing. Attach a few primitive art-styled fish cut-outs or models to the fish basket with wire or twine.
A fishing theme slides right into rustic decor so choose furniture suitable for an upscale fishing shack. A brown leather sofa and chairs or overstuffed seating in tones of browns, greens or blues will blend with paneled walls, sand-colored wall-to-wall carpet, or lobster trap side tables. A scarred wooden sea chest makes an old-salt's coffee table. Design your own table lamps by hot gluing resin or rusty iron cut-out fish to a plain table lamp or raffia-wrapped jug. Cover a lampshade with a parchment nautical map marked with fishing shoals. String a row of plastic bobbers over a doorway. Use a gaff with the tip corked , or a long-handled fishnet, as a curtain rod.
Choose a fishy novelty area rug for a kitchen, bathroom or kid's bedroom to continue the fishing theme through the whole house. Dress up the beds with sheets and comforters that feature a fish motif; drape fishnet over the windows as a swag; arrange a row of glass fishing floats on a windowsill. Hang a giant koi kite from the ceiling in a playroom and create a gallery wall of fish-shaped ceramic platters in the kitchen or dining room.
Promoted By Zergnet