According to ChooseMyPlate.gov, a healthy dinner, or any other meal, needs to contain five components: fruits, vegetables, grains, lean protein and dairy or another high-calcium food. By incorporating items from each group into your meals, you'll consume the nutrients your body needs to grow, repair itself and fight disease. Talk to your doctor or a dietitian if you're having trouble developing a healthy eating plan for you and your family.
Fill Half Your Plate with Produce
A healthy dinner is made up primarily of plant-based foods, according to ChooseMyPlate.gov. Half of your plate should be fruits and vegetables. For veggies, men need 2-1/2 to 3 cups daily and women need 2 to 2-1/2 cups. One serving equals 2 cups of raw dark leafy greens like spinach or 1 cup of most other raw or cooked vegetables. Adults need 1-1/2 to 2 cups of fruit each day. A fruit serving equals 1 cup of sliced fruit or 1/2 cup of dried fruit. Use fresh, frozen or canned produce, picking low- or no-sodium brands of vegetables and fruit in 100 percent juice. A typical dinner might feature a baked sweet potato and a cup of melon slices, or a stir-fry of peppers, carrots and cabbage, along with a piece of fruit.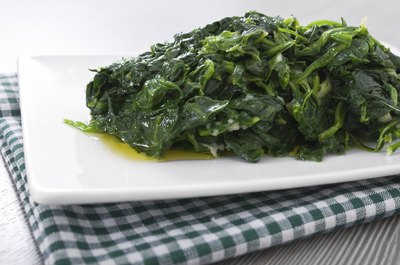 Make Your Grains Whole
Approximately one-fourth of a healthy dinner plate should be grains, particularly whole grains, which contain more fiber, vitamins and minerals than refined grains such as white rice or white bread. Men need 6 to 8 ounce equivalents of grains per day and women need 5 to 7. A slice of whole-wheat bread, one whole-wheat tortilla or 1/2 cup of cooked brown rice, whole-grain pasta, quinoa, barley or bulgur all count as a grain ounce equivalent. At least one serving should be included at dinner. Serve vegetables alongside a brown rice or barley pilaf, tuck grilled vegetables into a warmed tortilla, or serve whole-wheat spaghetti topped with a marinara sauce containing chunks of zucchini, onion and eggplant.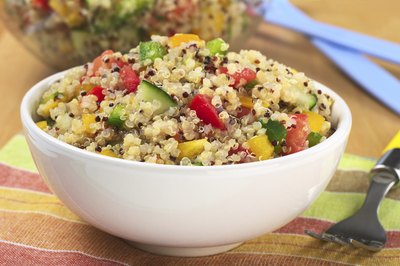 Go Lean with Your Protein
The remaining one-fourth of your dinner plate should hold a lean source of protein. Most adults need 5 to 6 ounces of protein foods per day. All of these count as one ounce of protein: an egg, 1/4 cup of cooked beans or legumes, 1/2 ounce of nuts or seeds, 2 ounces of tofu, or 1 ounce of cooked fish, shellfish, skinless poultry or lean cuts of beef or pork. Grill, roast, poach or broil whatever you choose for protein with as little fat as possible, using a small amount of vegetable oil like olive or canola oil instead of butter or lard. Serve it seasoned with herbs and spices, not topped with high-calorie sauces. Grilled chicken breast, broiled salmon, steamed tofu or a soup containing navy, kidney and black beans are all healthy protein choices.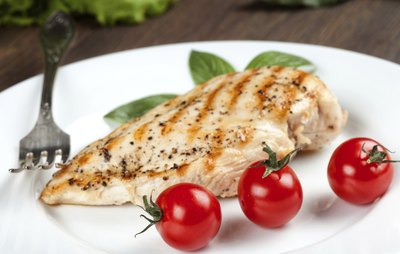 Don't Skimp on Calcium
Your dinner should include a serving of a calcium-rich dairy product such as a cup of milk, soy milk or yogurt, 1/3 cup of a shredded hard cheese like cheddar or mozzarella, or 1/2 cup of ricotta. Serve the meal with a glass of milk, top your vegetarian chili with cheese, or stir yogurt into your chicken curry. You could also fulfill your dinnertime calcium requirement with a dessert treat like 1 cup of frozen yogurt or pudding. Use only low- or nonfat dairy items for the least amount of saturated fat. If you don't consume dairy or plant milk, work soybeans, soy products such as tofu, or dark leafy greens like kale into your dinner menu, or have a glass of calcium-fortified juice.