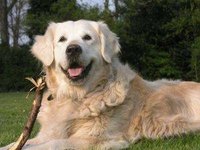 Golden Retrievers are a common breed and one of the most intelligent. The only thing that tarnishes their golden reputation is the prevalence of health problems including allergies. While health problems plague a lot of Golden's, some are reported to be doing better on a raw food diet instead of on a commercial dog food diet. If you have been wondering how to go about switching your dog to a raw food diet you are not alone and it is not as difficult as one might think.
Raw Food Diet Options
If you would like to try out a raw food diet for your Golden Retriever, you can start slowly. Many people only choose to feed 50 percent raw food. This means that you replace 50 percent of the dogs' food with raw food. So, if you are feeding one cup of food to your Golden twice a day, simply replace one feeding with raw foods. You can choose to feed any percentage of your Golden's diet raw, it's really up to you. Some people feed 20 percent raw, while others feed 100 percent raw. You may need to experiment to see what your particular dog responds to best.
Doing away with the allergies often caused by food additives is the most common reason owners switch to a raw diet for their Golden Retriever. It can be exciting to know there is help for your Golden friend, but it's important not to make the switch too suddenly. Like any other change in diet, you need to move slowly. You should start by adding just a couple pieces of raw food in here and there and slowly build up over a 2-week period to the raw food diet you have planned. This will allow the digestive system to assimilate for a smooth transition.
Once you start feeding a raw food diet, you can make weekly or monthly trips to the butcher for the food supplies. To make the raw food diet convenient, you can chop up all of the foods you will feed, including vegetables and meat and freeze them in freezer bags. Each day simply take out the number of bags needed for the next day. If you go to the same butcher every time, you'll find they soon throw in bones and short-end dated meats for free.
Raw Food Diet Guidelines
The raw food diet indicates that you feed raw, meaning noncooked, high-quality foods to your dog. If you feel you must cook meat for your Golden, cook it as little as possible so you feel comfortable, but the dog still benefits from the raw food.
Foods that you will want to feed to your Golden will include duck, beef, lamb, venison and turkey. You can feed the same meat to your Golden for 3 to 4 days, but then you should make a switch to one of the other meats mentioned. Meat should always be 50 percent of the raw food you feed to your pet.
If you are not including any commercial food, you will also want to include some other raw elements, such as oats that have been boiled for 20 minutes. Other options are mashed potatoes and brown rice. Vegetables must also be considered a staple in a raw diet, making up the other 50 percent or so. You'll want to feed carrots and celery for vitamins and then surprise them with watermelon every so often.
Treatments and Foods to Avoid
Once a week, a treat can be offered and may include items such as plain yogurt, cheese, or even a boiled egg. While these are great foods for treats there are some foods you will want to avoid as they will cause stomach upset. These foods include beans, turnips, cabbage, onions, tomato, cucumbers, grapes and broccoli.