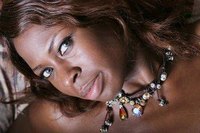 With so many options in hair extensions and hair weaves, a woman can wear a variety of styles. This is a great way to enjoy a full range of versatility, try out new cuts and textures and have fun with your hair. Find out some common and popular weave hairstyles that will look great on you.
The Straight Look
Whether you choose human or synthetic hair, there are many straight hair varieties. They come in virtually any color you can imagine--some will look more realistic than others. When wearing straight weave hair, you can let it hang down in one even length, pull it back into a ponytail, style it into a bun or braid it. Because hair weaves come in different lengths, you can wear extensions that cascade down your back or you can wear a shoulder-skimming bob.
Choose your color carefully when selecting weave hair. You should wear colors that are complementary to your complexion. However, if you don't want to dye your own hair, weaves are a great way to test a shade to see how it looks on you. Also, wearing a platinum blond weave won't damage your hair the way bleaching it might.
Curly Styles
Curly weave hairstyles are youthful and fun. You can wear a curly bob that just touches your shoulders or you can wear one that hits your mid-back. If you want a part in your hair, decide which side you want it on when weaving the hair in. Some weave styles can be easily changed, while others aren't changeable.
If your hair is short, adding a curly weave to the front and top of your hair, leaving the back exposed, is one way to add length without adding too much.
Braid Extensions
Braided weave hairstyles are popular for busy women who don't want to spend a lot of time on their hair every day. Individual braids can be styled almost like loose hair. You can let it hang freely or pull it back. You can achieve different thicknesses depending on how much extension hair is added to each braid.
Braids can be twisted together, braided together, worn in buns, two ponytails or other styles. Your only limit is your creativity.
Human or Synthetic
Synthetic hair has some limitations. Whatever style it comes in is permanent, so if you purchase straight synthetic hair, you can't apply heat to curl it.
Human hair, however, can be heat styled for different looks. It's usually more costly, so you'll have to weigh the pros and cons of both types of hair before you make a decision which is best for you.