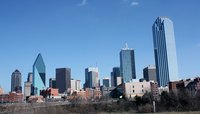 If you are considering moving to the North Texas area, Dallas may be your choice for the big city lifestyle. However, with the expansion and creation of new suburban towns such as McKinney, Allen and Arlington, potential residents are just a short car drive away from being able to experience the city life of northern Texas.
McKinney, Texas
Although McKinney, Texas has a small-town atmosphere with walkable downtowns, an 1875 courthouse and 19th-cenutry buildings and architecture and the drive to the big city is only about an hour away. Dallas, Texas provides a big-city environment with sports teams, skyscrapers and night clubs and bars, which you can enjoy without having to live in a city with a higher crime rate. According to Money Magazine's "Top 100 Places to Live" for 2010, McKinney, Texas is rated number five on the list because of its affordable housing, low crime rate and available jobs.
Arlington, Texas
Arlington is the city where Cowboys Stadium, the Ball Park in Arlington and Six Flags Over Texas amusement park reside; these North Texas attractions can be in your backyard if you hang your hat in Arlington, Texas. Located in the middle of the Dallas/Fort Worth metroplex, this city of almost 400,000 residents has all the amenities of a large city without the looks. Restaurants, grocery stores, shopping malls and more are all within a 10 to 15 minute drive. For those making the morning commute to work in Dallas or Fort Worth, the Interstate 30 takes you directly into downtown of both cities.
Allen, Texas
This northern Texas suburban town is home to approximately 84,000 residents and is ranked 16 in the Money Magazine's "Top 100 Places to Live" for 2010. Families with children can cherish its top-rated school system and low crime rate, with Allen High School ranking amongst the highest in academia and sports in the State of Texas. Because of Allen's gradual expansion, the low housing interest rates and property taxes encourage new families and businesses to move into the Allen area, which is only 30 minutes away from Dallas.