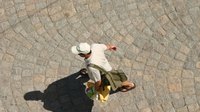 There are many great cities to visit in the United States, but if you are working with a limited budget, some cities stand out above the rest. With free attractions and tours, some cities offer a great deal of entertainment at little to no cost. Excelle and Hotwire rated U.S. cities based on the average gas price, lowest hotel cost, discounts and average airfare, as well as culture, entertainment and food choices.
Washington, D.C.
The nation's capital, Washington, D.C., is full of history and some of the most popular monuments in the country. You are free to walk around the city and see sights such as the Washington Monument, Vietnam Veterans Memorial Wall and the Jefferson Memorial. The Smithsonian is a free indoor attraction, and by appointment, you can visit the White House at no cost.
Atlanta
Hotwire's top destination, Atlanta has the largest airport in the world, making airfare rates very competitive. Some free attractions include the site of the 1996 Olympics, Centennial Olympic Park; Martin Luther King's home; and the Jimmy Carter Library and Museum. You can also visit the CNN center for $12 or less, and the World of Coca-Cola for $15 or less. Prices are as of January 2011. It is also home to the nation's largest aquarium.
Orlando
Orlando is a suitable family destination that is home to Disney World, Universal Studios and Sea World. There are theme park packages available at reduced prices. There are also free attractions such as the World of Orchids, Big Tree Park and the CityArts Factory.
Las Vegas
Called the city that never sleeps, Las Vegas has more than 90 casinos and huge hotels. Because of the competitiveness among the casinos, you can find great room rates with a little research. There are also many airfare specials to Las Vegas. While gambling may be the biggest draw, there are also 14 malls for the shopping enthusiast. Make sure to check out the Bellagio's dancing fountains.
Dallas-Fort Worth
Known for its barbecue, Dallas is a great city to visit for the food lover. According to Excelle, Dallas has more restaurants per capita than New York City. The Sixth Floor Museum examines the life of John F. Kennedy and is a free attraction for kids. The Fair Park's Hall of State and African American Museums are free for all ages.
Denver
Denver, called the Mile High City or Gateway to the Rockies, is great for outdoor enthusiasts. It has more than 450 miles of bike trails, and also has ski resorts in the mountains. The United States Mint and Coors Brewery are located in Denver and are free attractions.
Los Angeles
Los Angeles has something for everyone, from beaches to museums and parks. One of its most famous attractions, the Hollywood Walk of Fame, is a free stroll. There are numerous television shows taped in Los Angeles, and if you plan in advance you could view a live taping for free. The Getty Museum and California Science Center are two family-friendly attractions that offer cost-free activities.