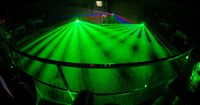 Anaheim, located in Orange County, California, is among the top spots for tourists. Aside from Disneyland, Anaheim offers a variety of attractions, including quality lounges and night clubs. Patrons of these clubs will enjoy multiple dance floors, renowned DJs and a variety of bars in these night clubs. Some clubs also offer themed nights for an extra special night on the town.
The Boogie Nightclub
This club includes four dance floors and two bars, making it large and attractive to avid clubbers. Younger patrons tend to frequent this club, but 18 and over nights are offered during the week. You'll find a variety of music, including trance, techno and hip-hop.
Music City
Interestingly, this club was once owned by the Righteous Brothers. The club features a large dance floor, a stage and a bar with stools and booths available to patrons. Themes during the week include Disco Night on Friday, salsa nights and live bands. Dinner is available at 7 PM with the option to make reservations. The floor opens for dancing at 9 p.m. ID is required to ensure patrons are 18 and over.
Sloppy Joe's
A busy club with a quirky name, Sloppy Joe's stays open until 2 a.m. with a smoking patio, two bars and separate areas available to the patrons. People ages 18 to 35 years old frequent this particular club for the electronic, club mixes and other several varieties of music played on the dance floor. On Wednesday nights, you can participate in Club 31 in which lighting and sound is intensified with top DJs. This club also regularly features live music.
Ember Cafe and Music Club
Cabanas, chandeliers and marble bars make Ember one of the more posh clubs in Anaheim. The 6000 square foot venue offers music from top DJs in the area. This club also offers accommodations for private and corporate parties.
Heat Ultra Lounge
Heat is one of the more luxurious clubs in Anaheim. Laser light shows, three bars and two DJ stations are among some of the features offered at Heat. 10,000 square feet offers accommodations for up to 800 patrons, making this club one of the larger venues in Anaheim.