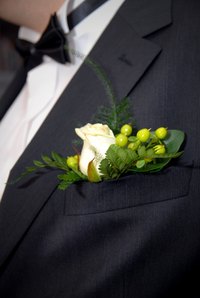 According to the University of Vermont's historical archives, menswear began to acquire a more relaxed and flamboyant look in the 1920s compared with earlier decades. Creased pants and ties declined in popularity, and colorful suits and patterned socks became fashionable. Men of the 1920s usually wore hats whenever they left the house.
Formal Wear
For the most formal events, such as balls, evening weddings or opera performances, men wore "full dress." In their book, "The 1920s" Kathleen Morgan Drowne and Patrick Huber write that these formal suits consisted of black or dark blue worsted swallow-tailed, satin-trimmed coats and matching trousers trimmed down the side with braid or satin ribbon worn with a white vest and shirt. Dress shirts at this time had no buttons or collars. Instead, men used studs to close buttonholes and attached stiff collars with buttons. Shirts also featured French-style cuffs closed with cuff links. A white bow tie, black silk top hat, white gloves, patent leather oxford shoes, spats, a white silk handkerchief and a white boutonniere completed the look.
Semiformal Wear
Unlike today, men of the 1920s wore tuxedos for semiformal occasions, including most evening engagements, such as dinner parties, the theater, or dining out. Like a full-dress suit, the tuxedo consisted of black or dark blue jacket and pants, but the jacket had no tails and the pants might not be trimmed, according to Drowne and Huber. Men might wear a black or white vest, but always a black tie. The phrases black tie and white tie originated at this time; "white tie" indicated full dress and "black tie" meant that men should wear tuxedos. A tuxedo outfit included the same accessories as full dress attire, except men wore bowler hats instead of top hats.
Business Wear
While men's casual wear became more laid back in the 1920s, business wear remained conservative, according to the University of Vermont. For work, most men wore creased, clean-cut suits, neckties and long overcoats. Drowne and Huber write that business suits consisted of a jacket, trousers, and a vest in black, gray, tan, brown, blue or green. Men wore ascots or long neckties instead of bow ties. As the decade went on, business suits became looser, with longer jackets and a less defined waist. Besides wearing suits to work, men also wore them to other daytime engagements and church services. By the middle of the 1920s, men began wearing shirts with more comfortable attached collars. When going to work, men usually wore fedoras or peaked caps.
Young Men's Style
In the 1920s, young men's style often originated at college campuses, according to Drowne and Huber. This included pants with wider legs, as wide as 30 inches; blazers with badges or crests on the front pocket; belted jackets with box pleats on the sides; small felt caps; trench coats; and knee-length Chesterfield coats.
Shoes
According to Drowne and Huber, formal and semiformal wear required shiny patent-leather shoes. Most men chose oxford shoes -- low-cut, low-heeled, laced shoes -- for business and casual wear. Sport oxfords featured comfortable rubber soles and usually came in black, brown, tan and white. Two-toned oxfords, either brown or black and white, also became common.
Trendsetters
Drowne and Huber write that London designers greatly influenced men's wear in the 1920s. Athletes such as Bobby Jones and Bill Tilden became trendsetters, leading young men to don golfing knickers, V-neck sweaters, or white flannel trousers, whether they played golf or tennis or not. Film star Rudolph Valentino brought the look of a suave, sophisticated "sheik" to American men, who emulated him by shaving their beards and moustaches and parting their hair in the middle. Charles Lindbergh popularized the leather aviation jacket. Men all over America imitated the impeccable style of Edward, Prince of Wales, with his tweed kickers and knee socks and bright Fair-Isle sweaters.