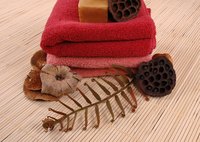 Many spas create brochures to market their services and products. The key to an effective brochure rests in the ability to capture the spa's essence to make it memorable to consumers. Like any successful marketing campaign, a brochure must speak to an identified target market and combine information and graphics in a way that differentiates the spa from competitors.
Theme
Spa brochures should have a theme that marketing designers incorporate throughout the brochure. Themes such as "tranquility" can be captured through color schemes and descriptive word choice. For instance, an appropriate color scheme for a "tranquility" theme would be a pale blue or green, which are hues that evoke psychological concepts of water, nature and relaxation, according to Bloomsburg University. Combining blues and greens with words such as "relax" and "calm" create a tranquil ambiance for consumers to associate the spa with.
Images
The use of images on spa brochures is powerful. Brochure designers should come up with a selection of spa-related graphics to add to the brochure; photographs of the facilities, images of people getting massages, pictures of nature -- such as mountains or beaches -- and images of lush terrycloth towels can set the mood for consumers. Don't clutter the brochure pages with too many graphics, however. Consumers should not feel overwhelmed with images when they look to the brochure. Have a graphic artist design the layout for where the images will be placed on the brochure.
Texture
Do not skimp on the texture of your brochure if your budget allows for it. Use a high gloss or matte finish to make the brochure stand out. Using a thick card stock -- as opposed to thinner, flimsy materials -- adds quality to the brochure.
Information
An effective spa brochure informs consumers of the types of services or products available at the spa. A spa that provides massages, skin and hair treatments should indicate so, in order for consumers to know what they have to choose from. If the spa is well known for a specific type of wellness treatment, this should stand out on the brochure to distinguish the spa from others. Be sure that descriptions about the spa are professionally written to appeal to the target market. According to AllBusiness.com, the brochure should outline the benefits of the services or products, as the benefits are what sell.
Location and Contact
Consumers must know where the spa is located and how to contact spa attendants for more information or to book appointments. The location and contact information should be inserted on the front or back of the brochure.