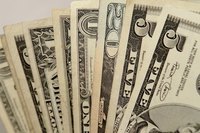 The field of accounting is governed by a strict set of rules. In the United States, the accounting field is regulated by the rules set forth in the Generally Accepted Accounting Principles (GAAP). The rules stated in GAAP help provide investors with a degree of security in knowing that financial information is reported similarly from company to company.
Matching Principle
The Matching Principle is a GAAP directive stating that companies must match expenses to revenues in the same period that the revenue was recorded. This principle is in place to prevent companies from inflating income levels on a monthly basis. If a sale was made in June and the expenses from that sale were also incurred in June, but paid in July, the expenses must be recorded in June.
Revenue Recognition
The Revenue Recognition Principle is a GAAP directive stating that revenue from a sale must be recognized by the company in the accounting period in which the sale occurred, not when funds from the sale were received. Revenue recognition differentiates between a sale and a cash receipt. If a sale was made in the June accounting period, but the cash from the customer is not received until August, the sale must be recorded in June, as that is the period in which the sale was made. A business that has many returns on items sold may have an exception to this principle, as GAAP permits the sale to be recorded after the allowable return period expires in such situations.
Conservatism
There are instances in accounting where there may be more than one GAAP-approved method to account for an item. Conservatism is an accounting rule that directs the accountant or bookkeeper to choose the method that results in the lowest net income or asset value. This principle also applies to expected losses. Conservatism does not allow for the disclosure of potential revenues.