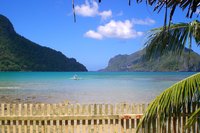 Although you will have to stay at a private resort, the beaches which proliferate in Morong, Bataan offer some of the most idyllic landscapes in the world. Morong is located just outside Manila in the northern Philippine Islands near the South China Sea. However, there are some complications with staying in Morong. Getting there typically takes more than one or two flights, and when you land, the beaches are not immediately accessible. Most require a fairly lengthy drive, meaning a car must be hired or rented for your entire stay.
Local Resorts
Offering either group-friendly dormitory rooms or fully-functional hotel rooms, the Waterfront Beach Resort offers day passes or full reservations that include room, beach and playground access, as well as a full buffet meal. The Morong Star Beach Resort is family friendly with its adventure park and on-site restaurant. With four separate houses available, Sunset Cove is ideal for those traveling with family or a large group of friends. Accessible by the highway and to the public since 2008, Sunset Cove is a family owned resort. All resorts require travel from the airport, some of which can be quite difficult. Contact your hotel to inquire the best way to arrive.
Private Beach Access
For private beach access, a house must be rented. Offering the most private stay, the White Beach House is meant for private rental. The location is ideal for a family or group of friends trying to get away from cities, clubs, or any outside contact. The house comes equipped with an entertainment system, billiard table, and a full kitchen. With four bedrooms, there is plenty of space for added privacy. The house is also within driving distance to the Pawikan Conservation Center and the Bataan Techno Park.
Tourist Attractions
Although small, Morong does have tourist attractions available besides the beach. The Pawikan Sanctuary protects the endangered Olive Ridley turtles, which nest at Morong's beaches. The Pawikan Festival is a week-long celebration of the hatching of the turtles, allowing tourists and inhabitants to recognize the importance of Morong's natural wildlife. While located in Morong, the Sanctuary does require a car, either one hired for the day or a taxi.
Activities in Greater Bataan
If willing to travel a bit further, there are plenty of sites worth the time. The Shrine of Valor which resides at the top of Mt. Samat recognizes "the agony of the Filipino and Americans against the forces of aggression and articulates the Commitment of the Filipino people to freedom and dignity." Built in 1587, the Santo Domingo Abucay Church was built in the Spanish style and remains a testament to those who died fighting Dutch invaders. The Philippine-Japanese Friendship Tower in Bagac symbolizes the peace treaty signed after World War II. A private car, either rented or hired for the journey, is necessary to visit any of these sites from the beaches of Morong.