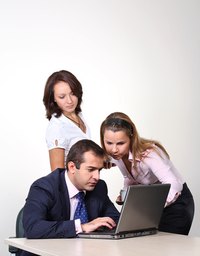 Effective communication in the work place can make or break a company. A firm's managers provide training for employees and handle a number of other concerns -- from work reviews to the implementation of daily employee tasks. The way managers and employees interact with each other -- and with vendors and clients -- makes the difference between a successful business with a happy workforce and a struggling company with a high turnover.
Group Meetings
Group meetings, whether scheduled or impromptu, benefit any organization by providing inspiration and an open line of communication between all members of the workforce. A group meeting gives everyone, from administrative assistants to district supervisors, a voice in daily business goals. Encouraging team members to share their thoughts -- and fostering a sense of creative community within the organization about long- and short-term goals -- lessens the divide between employees and management. There's a sense that everyone is "in this together."
Team Building
Every business needs an enthusiastic team of employees who feel comfortable working together and can communicate clearly. An efficient manager uses team-building methods to ensure that workers cooperate with each other and know what is expected of them in a particular project. Delivering a mission statement to employees and managers eliminates confusion about objectives. Assigning clear-cut responsibilities to each team member lets everyone concentrate on their tasks immediately. This assures work continuity. If employees share a particular task without supervision, the end results may be inconsistent. The manager must let each team member know how her activity fits into the overall goal.
Digital Communication
Most of today's business communication takes place via cell phones and the Internet. While sending an e-mail or text message to a co-worker or client doesn't involve the same amount of preparation as an in-person meeting, the sender still needs to exercise appropriate thought and discretion before hitting the send button. Writing a long message in a word-processing document and then transferring it to an email is one way to prevent misunderstandings and business faux pas. Prioritize emails and answer the most important ones first. Make folders for emails dedicated to a particular project or client. Keep anti-spam detection updated and unsubscribe from newsletters you don't read.
Face-to-Face Communication
The sheer number of digital communications may be overwhelming, but it's not the most effective method. According to Bloomberg Businessweek, there's no substitute for in-person contact. In-person meetings build trust and expose people to telling, non-verbal cues like facial expression or vocal tone. In a face-to-face meeting, any misunderstandings can be resolved immediately, while a confusing email or text message may not be answered for hours or even days. Company managers can establish a good rapport with employees by approaching them in-person with suggestions or concerns, as opposed to sending an impersonal email or voicemail.