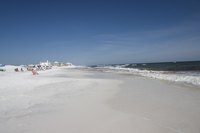 Pinellas County encompasses a peninsula on Florida's west-central coast. The county is just under 300 square miles and includes a number of small islands, sandy beaches, historical areas and state parks. Its biggest cities include St. Petersburg, Clearwater and Palm Harbor. Pinellas County is accessible mainly by Interstate 275.
The Beach
There are three major parks with beach access in Pinellas County: Fort De Soto, Sand Key and Howard. At the time of publication, the parks are open from 7 a.m. until dusk and feature walking trails, boat ramps, fishing areas, restaurants, showers and bathrooms. At 1,136 acres, Fort De Soto Beach is the largest of the three beaches. The park spans five interconnected islands, and is known for clear blue water, 7 miles of white sand beach and its "laid-back atmosphere."
Clearwater Marine Aquarium
Clearwater Marine Aquarium in Clearwater, Florida is near Clearwater Beach. The aquarium takes in injured and ill sea turtles, dolphins, sea lions and many other kinds of ocean life, rehabilitates them and releases them back into the wild. Visitors can see Winter the Dolphin do tricks and stunts in the central aquarium. The aquarium also offers guided Sea Life Safari boat rides that tour the coastal area and educate visitors about the wildlife and the environment.
Heritage Village
Pinellas County Heritage Village is a 21-acre living museum with 28 buildings, including schools, stores, homes and warehouses that have been preserved. The village is staffed by trained guides dressed in period costumes. Many of the exhibits are hands-on, including corn-husking and wool looming. There is also a museum gift shop and a self-guided native plant trail. Admission is free, but donations are accepted.
Sunsets at Pier 60
Sunsets at Pier 60 is a nightly celebration at Clearwater Beach Pier 60, which is just south of Caladesi Island State Park. The festival features street performers, musical buskers, artists, food and crafts and occurs 365 nights a year, weather permitting, at sunset. There is no admission fee, and donations to musicians and street performers are optional. Sunsets at Pier 60 is open daily from 6 am to 10 pm at the time of publication.