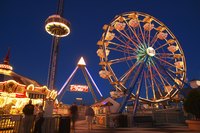 Visitors to Galveston Island have access to a general aviation airport for private and personal aircraft, while commercial flights arrive at nearby airports in Houston. Several domestic and international airlines serve Houston's two major airports. From Houston, visitors can drive or travel by taxi to the Galveston area.
Scholes International Airport
Scholes International Airport at Galveston is a gateway to Central and South America and the Caribbean, and can accommodate any size aircraft up to a Boeing 767. Although once served by commercial airlines, the airport today is reserved for general aviation aircraft -- that is, private and personal aircraft not operated by domestic and international airlines. Travelers can take shuttle buses and local transit from the airport, 3 miles from downtown Galveston. The airport is also home to the Texas Aviation Hall of Fame Lone Star Flight Museum. The Moody Gardens Hotel and Convention Center is also located at the airport.
Hobby Airport
About 36 miles from Galveston, the William P. Hobby Airport in Houston is the city's oldest commercial airport and home to the 1940 Air Terminal Museum. The airport is served mainly by Southwest Airlines. AirTran Airways, American Eagle, Delta and JetBlue also fly to the airport. Travelers can fly nonstop or direct to more than 32 destinations throughout the U.S. from Hobby Airport. Although there are no regular public transportation links between the airport and Galveston, some cruise lines provide shuttles to Galveston. Passengers can also travel to Galveston by taxi or car from the airport.
George Bush Intercontinental Airport
Houston's George Bush Intercontinental Airport, 58 miles from Galveston, is Houston's largest airport and is 23 miles north of the city's downtown. Travelers can fly to more than 170 destinations from George Bush Intercontinental's five terminals. Several international carriers use the airport, including Air Canada, Air France, British Airways, Emirates, KLM, Lufthansa, Qatar Airways and Singapore Airlines. American Airlines, Continental, United, Delta and Alaska Airlines also serve George Bush Intercontinental.