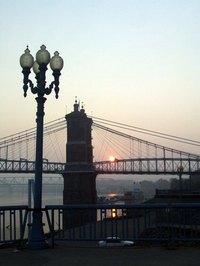 Spend the day or night enjoying your anniversary in Ohio's third-largest city, Cincinnati. Cincinnati offers a variety of romantic and entertaining attractions and activities that couples living in or visiting Cincinnati may enjoy. Whether you are a resident of Cincinnati looking for a romantic restaurant offering dinner and dancing, or a visitor looking for a weekend hotel getaway, Cincinnati has something to offer you.
BB Riverboats
Spend your anniversary aboard Cincinnati's premiere riverboat cruise line, BB Riverboats. BB Riverboats offers a variety of different cruise options to fit any couple's needs. Take in the romantic sights and learn about the history of the river on a daytime lunch cruise, enjoy a romantic night of dinner and dancing under the stars on a dinner cruise or spend the whole day on the boat for a mini vacation complete with meals, dinner and sightseeing on a specialty cruise.
Special holiday cruises, which include themed meals and entertainment, are also available for all major holidays. If your anniversary falls on a holiday such as Valentine's Day, you can choose to book a Valentine's Day package with roses, candy, Champagne, balloons and boarding photos. Many hotels are also located nearby if you are visiting Cincinnati and would like to stay over.
Cincinnati Zoo & Botanical Garden
Couples who love romance, nature and animals may enjoy combining the three for a unique anniversary celebration spent at the Cincinnati Zoo & Botanical Garden. Not only does the Zoo offer a variety of couple-friendly attractions and activities, there are also plenty of place to dine and shop at the Zoo, so couples can enjoy spending the whole day there.
Begin your day with a romantic, self-guided stroll through the Butterfly Garden where you can view a variety of plants used throughout the life cycle of butterflies, and the Native Plant Garden which is home to various native plants, shrubs and trees.
Enjoy a romantic lunch at one of the Zoo's many restaurants like The ZOO Cafe, which offers grill items, gourmet salads, deli sandwiches and pizza, or LaRosa's, which offers pizza, beer and a wide range of snacks and refreshments.
Spend the rest of your day viewing the many exhibits at the Zoo; including Africa Savannah, where you can see cheetahs, flamingos and Maasai giraffes; Gorilla World, where you can explore the western lowland gorillas; Monkey Island, where you can get close to Japanese macaques and snow monkeys; or Penguin Walkabout, where you can walk with African penguins.
Romantic Experience
If you are a couple who enjoys action and adventure, consider a memorable experience gift for your anniversary. Experience gifts give couples the opportunity to enjoy a variety of romantic activities for two. Get your anniversary off to a spectacular start with a romantic sunrise or sunset private hot air balloon ride thousands of feet above the Earth, overlooking the Ohio countryside. The duration of each hot air balloon ride is three hours with approximately one hour of flight time. On the balloon, couples will float over numerous landscapes while enjoying a traditional Champagne toast.
If a hot air balloon ride does not appeal to you, maybe a romantic horseback trail ride for two would be of interest. Saddle-up on a beautiful four-legged friend and enjoy a relaxing ride along scenic, wooded nature trails. No previous horseback riding experience is necessary to enjoy this anniversary experience which lasts approximately one hour.
Whether you decide to spend your day up in the air enjoying a hot air balloon ride, or down on the ground enjoying a horseback ride, you can create a memorable anniversary year round.