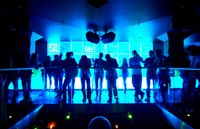 On most nights of the week, there are renowned DJs spinning hits at venues all across the city of Toronto. Whether your interested in pop, reggae, hip-hop or techno, Toronto has something for clubgoers of all ages.
All-Ages Clubs
Most clubs in Toronto require that you be 19 or over to enter. Some clubs will advertise at local colleges for special nights when people under 19 are permitted to enter. You may be asked to wear a special wristband on that night to indicate you are below the drinking age. Check with Torontonightclub.com using the Under 19 link to see if there are any nightclub postings. You can also use that site to check for different age groupings, like special nights for those over 35 years of age.
Tryst
Tryst opened in 2008 and claims to cater to an elite crowd. Celebrity sightings have included Emmanuelle Chriqui from the HBO show "Entourage" and WWE star Shad. You must be 19 or older to enter Tryst, though some special event nights require you be at least 23 to enter and other nights cater to all age groups.
Runway 224
Runway 224 is a bilevel nightclub with a stainless-steel and glass decor. They feature a spinning stage with go-go dancing. The club also has a retractable roof, and a rooftop waterfall and fire pit. Bathrooms are unisex, fashionable attire is requested and you must be over 19 to enter on most nights, although special nights will allow all ages.
The Guvernment
The Guvernment is one of the largest nightclubs in Toronto. It caters to a 19-and-over crowd, but they will occasionally host events for all ages. Their dress code is casual but no baseball hats or sports gear are permitted. Cover charges vary depending on the night. Tickets for performances can be purchased in advance at their website.
The Roxx
An alternative to Toronto nightclubs for those under 19 is the Roxx nightclub. They have select dedicated U19 (under 19) nights -- for all age groups. The club is located 60 miles north of Toronto in downtown Barrie. The music featured is an eclectic mix of hip-hop, R&B and rock. Doors open at 8 p.m. and close at 1 a.m.