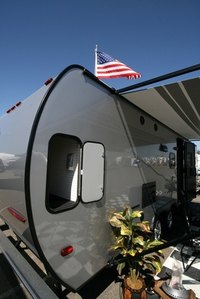 The Fun Finder T139 is a travel trailer with an extremely small footprint, manufactured by the company Cruiser RV, a subsidiary of Double Tree RV. If you want the most compact camper available, then you have found it. Even though it is small, it comes loaded with plenty of features that will give much-needed comfort while you are out on the road.
Dimensions
The T139 is 14 feet 9 inches long, 7 feet wide, and 8 feet, 2 inches high. The interior height gives you 4 feet 6 inches of head room. The trailer sleeps a total of four people.
Weight
The gross weight of the trailer is 3,150 pounds. It has a dry weight of 1,960 pounds, a cargo weight of 1,190 pounds and an axle weight of 1,745 pounds. The hitch weight is 215 pounds, adding very little to the pulling vehicle.
Water Capacity
The Fun Finder T139 has a fresh water capacity of 25 gallons. As you start to use the water, it has a 13 gallon grey water tank and a 13 gallon black water tank.
Internal
The Fun Finder T139 is loaded with features for a small travelling family. There are two bunk beds near the tongue of the camper with overhead storage. It comes with a refrigerator, stove and microwave for storing and preparing meals. The T-139 has a combination shower with toilet, two wardrobe closets and a dresser, plus a dinette for enjoying your meals. This is your home away from home.