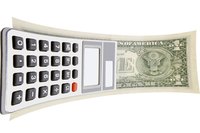 Keeping track of your money can be a daunting task, especially when you get married and start having children. Expenses come from a variety of areas, and multiple means of purchase -- credit cards, debit cards, checks, cash and automatic withdrawals -- can leave you confused about where your money goes. Taking the time to create and maintain a detailed budget of income and expenses can help you get control of your finances.
Specific Budget Categories
Be specific with your budget categories. Relying on over-generalized budget categories makes it difficult to show areas of overspending. Examples of specific budget categories include but are not limited to: Groceries; Entertainment; Auto (gas); Auto (maintenance); Health Insurance; Charitable Giving; and School Loans. Add or eliminate categories according to major life events.
Organization
A good budget entails an organized manner of keeping records. Whether you track your budget in a handwritten ledger or on computer software, be diligent and systematic with your entries. Use formulas for keeping track of your income compared to expenses. Although formulas require effort at the start of creating a budget, they will save you time in the long run.
Savings and Investment Section
Include categories for savings and investments in your expense section. By proactively budgeting an amount of money to save and invest each month, you will be much more likely to do so.
Rollover Feature
Leave room in your records for noting rollover of one month's budget to the next. For example, if your monthly budget for clothes is $100, but you only spend $60 one month, the extra $40 dollars should rollover into the next month's budget. Conversely, if you spend $120 dollars one month, the rollover should show $80 in the next month's budget.
Frequent Adjustments
Check your budget frequently. Good budgets need to be flexible. Observe how your actual expenses match your budgeted expenses in the different categories. Make adjustments as necessary to make the budget more accurate, depending on what is happening in your life and work.