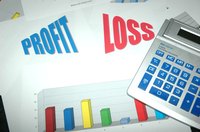 Financial analysis is a portfolio manager's overriding responsibility, staying abreast of market trends and making strategic decisions on how to properly manage a company's assets. Such managers are the financial quarterbacks who also advise senior management and often lead investor meetings. Though portfolio managers are employed in many fields, they commonly serve investment banks and management firms. While precise duties will vary according to field, some are common across the board.
Supervise Analysts
Working under the portfolio manager is a group of financial analysts who study the markets and identify various investment vehicles. It is the portfolio manager's job to meet regularly with the analyst team and discuss the alternatives, then study this data and craft an investment game plan.
Strategize and Prioritize
Many sound investment plans may exist, but the critical yardstick is whether implementation will advance the company's objectives. It is the portfolio manager's job to take this measure and decide which plans and projects make the most sense in light of these objectives. It is then a matter of properly prioritizing each investment vehicle, planning implementation, allocation of resources and more. Thus, a successful portfolio manager is a good strategist who maintains perspective and always acts in the best interests of the company's long-term financial picture.
Manage the Bottom Line
Some commercial banks and thrift institutions have investment portfolio managers whose main duty is to help decide how to invest bonds and securities. At the same time, these managers ensure that what their companies have paid in interest to depositors is not disproportionate to the interest earned from the loans. Maintaining this type of vigilance is common among portfolio managers, whatever their particular field of endeavor.
Adapt
A good portfolio manager remains attuned to market conditions and adjusts accordingly. For example, managers working with stocks or various funds invariably face sudden market shifts requiring split-second decisions. It is the manager's duty to remain flexible and creative while continuing to advance the company's objectives.