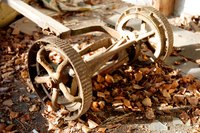 Briggs and Stratton has been manufacturing small engines since 1908. The company also manufactures products for a variety of partners like Craftsman, John Deere, Husky and others.
The Briggs and Stratton 3.5-horsepower 550 series engine utilizes overhead valve technology, which allows the mid-duty utility engine to run cooler, cleaner and deliver more power.
Engine specs
The 550 series single-stroke engine's displacement is 127 cubic centimeters with a 2.44-inch bore and a gear-driven lubrication system to continuously supply oil to all internal parts.
Capacities
The 29.5-pound engine holds 0.5 gallons of unleaded gasoline and 20 ounces of 5w-30 SAE oil.
Products
The 550 series engine has a horizontal shaft and is used for powering front-tine tillers and lawn edgers.
Torque
Torque is calculated mathematically using the engine's revolutions per minute as the major source of data. There isn't a tachometer for reading the engine's rpms on this engine, so the company's specs are to be accepted as given. Briggs and Stratton listed the gross torque for the 550 series engine at 5.50 foot-pounds. Additionally, altitude has a direct effect on power output, which in turn will influence torque.