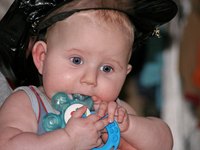 Traveling with small children can be challenging and exhausting. Providing age-appropriate activities, familiar foods and drinks, favorite toys and the necessary traveling equipment can ease the stress often associated with traveling with a one year old. Careful planning, packing and a large dose of patience will help everyone arrive at your destination with energy and positive emotions to spare.
Soothing Items
If your one year old has a favorite toy or sleeping blanket, don't leave it behind. Make sure each and every leg of the journey includes at least one familiar item that will help your child calm and sooth himself.
You may also want to include favorite traveling toys like stuffed animals, fabric books, dolls or toys that can attach to the car seat so they don't get lost or tossed.
Familiar Foods and Drink
Sometimes unfamiliar foods can upset young tummies, so be sure to pack plenty of familiar foods. Bags of finger foods can distract her as well as feed her grumbling tummy on the trip. You may want to purchase bottled water for mixing drinks to reduce the likelihood that your child will react to something in the local water.
Feeding your child during airplane take offs and landings can help equalize the pressure in her ears and prevent her from experiencing painful ear aches. Bottles, sippy cups or the breast all allow your child to suck in ways that quickly ease the pressure and sooth the child.
The TSA now allows you to travel with more than 3 oz. of formula, juice or water if you declare it for inspection at security checkpoints. Separate these items from other liquid or gel items in zip lock bags. You can also pack jarred foods in your carry-on luggage. TSA asks that you only carry enough to reach your destination.
Take Your Car Seat
Packing your car seat may require that you purchase a ticket for your little one if you travel by plane, train or bus. The safety is worth the added expense, even though you may have to contrive a way to strap the seat in on buses and trains. If you have your car seat along, however, you can choose to take a car trip without having to pay extra to rent a car seat or find one to borrow. The car seat can also help to contain your little one and allow him to nap in the seat.
Sleeping Arrangements
If you aren't packing a playpen or other sleeping accommodation for your one year old, be sure to arrange for a port-a-crib or play pen at the hotel or plan to sleep with your little one in the bed with you. Some higher-end hotels have port-a-cribs you can rent, as long as you request it when you make your reservations. Some rental shops may have port-a-cribs or playpens for rent at Grandma's or other residence.